Debbie does...round the world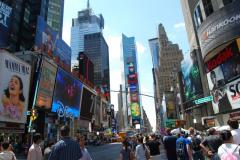 6th Jun 2011 - New York
New York Day Three
Today we decided to do the hop on hop off bus tour - 48 hour ticket which included (if we had time) uptown, downtown, night and 90min cruise around Manhattan - seeemed good value for approx $54US. Caught a taxi into Times Square - so different to what I thought and had imagined. i dont know - i think I expected a huge pedestrian square with glittery displays etc all around and its not - a road runs thru it - Broadway I think and its not that amazing really - im sure at night its different but then I never did see it at night.
We had to walk approx 300m over to the bus stand and by the time we got there Jo was already tired and wanted to sit in Starbucks to rest. I did suggest (perhaps a bit sharply) that as we were going to sit on a bus for the next 2.5 hours that perhaps she could rest on the bus rather than wasting another 30mins of the day waiting for her and for the next bus to arrive. we waited cos she said she hadnt been given her ticket. She paid with me so I checked I hadnt been given a double ticket and i hadnt, checked with her agian and she said no ticket. So I started arguing with the ticket guy that we had only been given one ticket instead of two - he said he had handed two over. i said not. We had a long paper receipt full of other freebies which I produced with only one ticket. he was adament he had handed over two so i checked with Jo again - no she said. So I proceeded to argue and asked for another ticket as had a receipt with $108 on it (2 tickets). I was getting nowhere and getting really really angry and then Jo pipes up in the background and pulls a ticket out of her pocket - I was so speechless and so furious with her. I profusely apologised to the guy - he had heard me repeatedly asking her if she had the ticket so was ok with me. I wasnt ok with me as I was really starting to lay into him and all for nothing. Anyway fortunately the bus arrived and we got on and I didnt sit near Jo and didnt speak to her for the entire bus trip and fortunately didnt have to as I was so cross.
Anyway we did the downtown tour - you can either do the whole circuit which took about 2.5 hours or hop on and hop off. We had decided to do the whole circuit and then see if there was anything we wanted to go back and do. To be honest it was a bit boring - did see a few things though. Every block has a Starbucks on it as well as a DuaneReade pharmacy. Saw Wall Street and Bryant Park and all around the southern tip of Manhattan.
Went to a New York style Deli for a late lunch - yummy.
Then time to go and meet Sarah at Penn Station - Kellie and Michael went to do this and I left Jo to do her shopping whilst i slowly meandered back to the hotel - about a 30min walk. It was very hot again. the walk was nice though and made me realise how central the hotel was - about 5 mins from Grand Central Station. The others arrived back - Jo still hadnt. Sarah was lovely - had heard a lot about her from Kellie and I can see why she is so liked. Another friend of their's who worked near was also there and we decided to go for sushi at the place next to the hotel so when Jo arrived back she would be able to walk there.
Had some great sushi and some very sickly sweet plum wine - in fact so sweet it was hard to drink. Still great friends and great conversation - I was happy. Jo never arrived to join us. Micheal went off to the supermarket and got supplies - wine and other nibbly bits. Jo was sitting outside having a smoke. Kellie went to talk with her and I took the others up. Turns out that Jo was upset about her illness and felt that 'we' were fed up with her (true). Anyway Kellie came back up thinking Jo was coming soon but she stayed down. So i therefore had to go down - not fair for Kellie as she had her friends there. Just chatted to Jo about all and sundry - talked her about my various dating escapades here in the UK - she said I should write a book and I just might. Eventually she brightened up and we were able to go back to the room and enjoy ourselves.
To be honest I was slightly inpatient with her but more because of her attitude rather than anything else. From my perspective she has always been a bit high maintanence - she invited herself along when she wasnt strong / well enough to come and expected the rest of us to have a less of a holiday because of it. I have no problem being kind and helping out people less fortunate than myself but when I have spent a lot of money to go on holiday i am still going to go ahead and do what i need to do whilst being part of a group and compromising - however she also need to accept that her limitations impacted on the rest of us and actually give us permission to go off and do things that she couldnt do without making the rest of us feel bad for leaving her - think Kellie agreed.
Diary Photos
---