Debbie does...round the world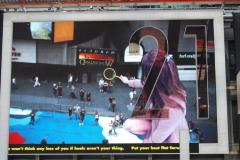 7th Jun 2011 - New York
New York - Day Four
Left the hotel mid morning and went back to Times Square to do the uptown hopon hopoff circuit. The day was sweltering and we had all got slightly pink the day before. Even I put extra sunblock on. the bus didnt leave from where we expected so Jo and I took a taxi for 3 blocks and the others waled. Got good upstairs seats on the bus. I more enjoyed this circuit - went thru uptown areas , past Central Park, Columbia University, Harlem etc - the guide was great and even sang a little every now and again. Saw a lot of a different part of Manhattan and the Upper East and West sides - the wealthy bits and the poor bits.
Again had a late lunch and we went to Ruby Tuesday's - a fave of mine since eating there at Santiago Airport in Chile. Of course the cocktails were great too. Each meal we had I thought was expensive but saying because we were eating mid afternoon we didnt have dinner. Afterwards we all agreed to go separate ways and do some shopping. I was looking for an ipad2 - finally found one but they didnt have the one I wanted - they are so much cheaper in the States than anywhere else - guess I will have to suck up to Tim for when he goes to San Diego to buy me one and send it back. Again meandered back to the hotel having in the meantime received a phone message from my bank in the UK to urgently ring them.
The others were going to the Broadway show of Wicked that evening - only 4 tickets between 5 of us and decided because I could see it in the West End in London I wouldnt go. My plan was to sort out the bank and then go and to the night time tour of Manhattan. I had to organise my shuttle for the next day - attempted to do this using my mobile but the guy didnt understand me so eventually i had to go down to the hotel reception to get them to organise it for me. then they wanted to pick me up at 1330 instead of 1430 like I wanted - they won. That took 30 mins then back upstairs to ring the bank who put me on hold for so long that I went thru nearly £20 of credit. i then tried to top up my phone using my Visa but couldnt as the bank had in the meantime put a hold on my card cos they thought it was being used fraudulently. they did know it would be used in New York because I told them days before I went away. Then I had no means to sort it out and it was now 2030 so after sending an barely civil message on my internet banking - up to 48 hrs to respond - way too late for me. So I ate some icecream and watched some stupid TV and went to bed.
Diary Photos
---