Debbie does...round the world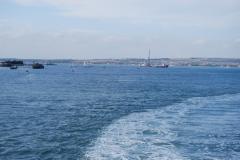 16th Sep 2011 - England day trips
Surprise birthday weekend - where did I go?
Well, this tale starts about ten days ago. MR aka Martin the Man txts me and asks what my plans are for my birthday weekend. He has known about this momentous occasion for some time having asked me some 2 weeks after we started going out when it was so he could put it on the calendar. Anyway I being a woman do actually have contingency plans but tell him I do not have any set plans. A wee lull of an hour and he txts me back to ask what time on the Friday night the 16th I can get to Horsham - anytime he wants me I reply. So he settles on 1800 knowing I will need to leave work early to get there. have no idea what he is planning. Anyway an hour later another txt asking if I can get the afternoon off - of course I can however knowing my colleague and I had talked earlier that day as to her having a long weekend with either the Monday or Friday off. I txt her quickly to make sure that is ok. The next day MR asks whether I can be there by 1300 necessitating leaving work at 1130 knowing have an important meeting at 1000 - of course I can. So nothing more is said apart from the fact I will need the same type of clothes as our previous weekend away.
So fast forward to the 16th - I have surprised myself in the intervening time by not asking and not guessing. My meeting starts at 1000 on the dot and i have already warned all participants that although I am chairing the meeting it absolutely has to finish at 1115. It does only just. i am out that door back over to my office shut down the computer and outta there. A quick 7 minute walk to the bus and there is one waiting - someone is smiling upon me - then to Clapham Junction station - ticket and coffee and still have ten mins to wait for the train. I get a seat which is also a bonus and down to Horsham I go. MR started work early and has been home since 1130 doing goodness knows what as he still hadn't packed. he did make me sandwiches for lunch but I can only manage half cos I am so excited. He as always can eat anything at any time.
In the car at 1400 - heading south making it confusing as no east or west yet and then turn west - in my head then its Cornwall, Devon, Somerset or Isle of Wight. Difficult to tell for a long time but then start driving into Portsmouth and still difficult to tell until we are in the line for the Isle of Wight ferry - so so excited as have been wanting to go here for ages. We are really early and manage to get on the 1600 ferry. Driving on and off so easy. I love ferries and i love the water and the day was perfect and so was he.
Only took 45 minutes and we were there - back in the car and driving to Totland Bay - had no idea where that was. Took us a wee while as we made a wrong turn and ended up in Cowles - both of us not seeing the sign we needed - discovered later there wasn't one. Finally arrived about 1730 at the most gorgeous Bed and Breakfast ever in Totland Bay called Chart House - lovely room at the front of the house with a small en suite. Gorgeous hanging baskets everywhere outside. Inside a bit chintzy and country that most people would love but not too much - just perfect really. Owners were lovely and welcoming. After settling in we walked down the hill to the waterfront - about 5 minutes and strolled along the promenade to a pub/restaurant at the end. I took a plunge and had crab cakes - bit too much crab for me but good. MR had fish n chips. A band started playing but we left about 2130 as had been a long but lovely day. Bed was so comfortable as well.
Diary Photos
---