Debbie does...round the world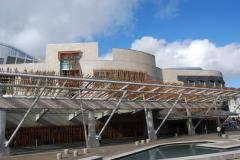 24th Sep 2011 - Scotland
Edinburgh - hop on hop off bus day
Well better start to the day as the shower is now working. Cereal for breakfast and then bus into the city with plans for the hop on hop off bus tour and Edinburgh Castle.
Edinburgh is an absolutely gorgeous city - a wonderful mixture of new and old - Gothic, Georgian and modern. It is a place you instantly warm to and know that you could live here. Easy to get around either by walking or by bus or a cab isn't too much.
As the local bus deposited us near Grey friars Kirk we went there and had a look around. A massive cemetery surrounding the Kirk - very very old tombs and monuments and graves and I'm sure a few famous names that I didn't recognize - poet Allan Ramsay and architect William Adam 17th century and William Smellie of Encyclopedia Britannica fame. The Kirk was built on the site of a Franciscan Priory in 1620 - in 1638 they signed the National Covenant here rejecting Charles 1 attempts to introduce a new English prayer book and affirming the independence of the Scottish Church. However this came back to haunt them when many who signed were later executed at Grassmarket. The Grey friars Booby statue has such a sweet story surrounding it - a Sky Terrier called Bobby sat next to his Policeman's masters grave from 1858 to 1872 and maintained a vigil - evidently the story has been made into a book and a Disney movie.
We then walked up to the Royal Mile and had to make a decision re which hop on hop off bus as there were 3 to choose from - decided to do the whole circuit and then go back to what we wanted to see. I was keen to get off at Holyrood place and walk up to Arthur's Seat - supposedly 30-45 minutes to get to the top - ie 60 minutes for me - so not enough time. It is quite unusual seeing a bit of the country right in the middle of a city. Holyrood Palace is the royal family's official residence but more famous for the time that Mary Queen of Scots spent here and married two of her husbands - quite an interesting story really when you get into you.
The new parliament buildings made a striking contrast to the old city - evidently they were and are controversial - I like them but they don't really fit into the surroundings.
Then up around the north of the city and back west with Edinburgh Castle looking impressive towering above us. Lots to see and do which we didn't get time for - already another trip planned.
Decided to go to Edinburgh Castle at lunchtimeish. Massive queues to get in but no choice to to wait in line. Saying that the line went reasonably quickly and Lynda and I picked up a 3 day pass thingy that got us into some other castles that we were planning to visit. Basically meant that anything we did after two castles was free. So Edinburgh Castle - a pivotal role in history as a military base as well as a Royal residence - King Malcolm first making his home here in the 11th century. From 1745 to 1920 it was the British Army's headquarters in Scotland. Inside the castle is the National War Museum (not for us), St Margaret's Chapel - the oldest building in Edinburgh built in memory of someones mother around 1130 and also the Royal Palace which includes the Crown Jewels and the Stone of Destiny.
Now the Stone of Destiny deserves a paragraph of its own because it is the sort of history I find fascinating. The legendary Stone was said to have come from the Holy lands way back and all the Scottish Kings placed their feet on it during their coronations. It was stolen from Scone Abbey by Edward the 1st in 1296 and taken to London (Westminster Abbey i think).All English monarchs from Edward the 2nd to Elizabeth 2nd have sat on the stone when they were crowned. It stayed there for 7 centuries apart from a time during WW2 when it was removed and in the 1950s was gone for 3 months after Scottish students managed to steal it as a prank. Anyway in 1996 it was finally returned to Scotland and placed in Edinburgh Castle next to the Crown Jewels. However that is not the most interesting part - it is a bit like a Dan Brown novel. The story goes that Edward 1st actually stole a shoddy imitation made of sandstone. All the stories talk of black marble prior to this and that the true Stone of Destiny has remained hidden in Scotland all these years guarded by a few passed down from generation to generation.
Having spent a number of hours at the Castle we then looked in a few touristy shops (yay) and eventually after some debate and looking decided on a combination Chinese/Thai restaurant for dinner - not Lynda's choice but Dorothy's choice and I didn't care. Still the Thai food was good so i was pretty happy
Then back to the apartment to do our packing as leaving early the next morning - 0630 to get Dorothy to the airport.
Diary Photos
---