Debbie does...round the world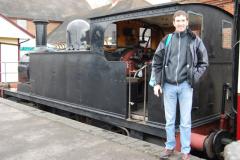 8th May 2012 - England day trips
Searching for bluebells.....
A day off work that has been planned for since January...
Brought tickets for the Bluebell Steam railway back in January - they had two weeks of dates where the bluebells would be out and in their full glory along the banks of the railway track - had seen photos and wanted to experience it myself.
I have been a bit worried because of the English weather - 3-4 weeks ago we had two weeks of glorious weather - I thought the bluebells would have been and gone. Then 2-3 weeks of trashy weather - rain most days - again not so good for the bluebells I thought.
Off to East Sussex to Sheffield Park Station where the Bluebell Railway starts. We were on the midday Bluebell Special - steam engine and one panoramic viewing carriage. School kids everywhere dressed in 1940's outfits - doing an evacuee day for a school project - they looked great but the best thing is they werent on our train. looked in the locomotive yard and then the museum and then went and snaffled great seats in the carriage - right at the back looking straight out. Decided I would be watching on the way there and taking photos on the way back.
Slightly disappointing as there were some bluebells but not prolific amounts as they had cleared the sides of the tracks - Martin thinks that next year it will be amazing.
Three stations on the line - Sheffield Park, Horstead Keyes and Kingscote - all built in the traditional 'Queen Anne' style in 1882. Horstead Keyes is the station you see in films and on TV - Downtown Abbey, The Railway Children and The Woman in Black. Each station has been restored to a different period. Sheffield park to the Victorian period, Horsted Keyes to 1920s and Kingscote to 1950s.
Picnic lunch at Kingscote station (rain had stopped by then). Homemade quiche, homemade savoury scones, homemade banana cake and we didnt need the homemade shortbread.
The above took about 90 mins and was about £13 each - well worth it.
Then as the weather was clearing we went to Sheffield Park and Gardens - a National Trust property about a mile down the road. We are now National Trust members - entrance was £9 each which we got free as members. I think within a month we have nearly saved the yearly fee that we paid.
I was delighted to see bluebells and more bluebells and more of them - many many photos later I was further able to wander around. A good walk of about an hour with many trees and bushes and lots of colour. I imagine it will be spectacular in a few more weeks with some sunshine.
A lovely lovely bluebell day...
Diary Photos
---