Debbie does...round the world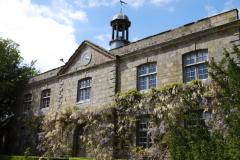 13th May 2012 - England day trips
Wakehurst - Kew Botanical Gardens sister site
Wow - what an amazing spring day in the end.
Martin gave me two choices of where to go and hadnt heard of either of them but Wakehurst he said was a kind of sister site to kew gardens so that I chose. Also a National Trust property so we got in for free - about £13 per adult otherwise - however is probably worth that if you spend the whole day there.
The gardens are enormous. I was initailly put off by the vast amounts of cars in the carpark but once you get in it was so large that at times you didnt see people for up to 10 minutes - my idea of bliss.
The Wakehurst Mansion was a reasonable size and actually i liked the outside. The photos of the paintings that were inside were done by a local artist - wish i got his name and all for sale and reasonably priced - £150-300 - may have brought one if I had a home :(.
Lots of walking was done - as usual Martin taking great delight in making me walk up steep slopes - i can feel him plotting and laughing in advance now. Still the day was so so lovely - a perfect temperature and sun and wonderful colours. Went through the pond area and the Southern hemisphere gardens - recognised the hebes and the ferns. Then up through the Himalyan Glade and the Bluebell woods over to Westwood Lake and back via the water garden. About 2.5 hours of wandering and we only saw two thirds of it.
I took about 200 photos and deleted 100 of them. unfortunately we wandered so long that the gift shop and plant centre were closed - I think Martin bribed them to shut before I got back there. he is a bit concerned re my 'nesting' and wanting to grow stuff on the balcony.
A superb afternoon in a place that has the ability to restore the soul to be able to go on and tackle the working week with spare reserves.
The irises are due to bloom late June - they are my only truly favourite flower so the next visit is planned for the weekend after I return from my most favourite place in the world - New Zealand - yayyyy - cant wait.
Diary Photos
---