Debbie does...round the world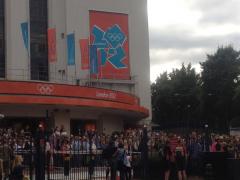 27th Jul 2012 - 12th Aug 2012 - England day trips
My Olympics - London 2012
I am not sure I can be counted as a Londoner anymore as I now live in West Sussex. However in one sense I still am because I commute into SW London each day for work. Therefore the thought of London 2012 filled me with dread rather than the usual excitement. Dire warnings re not travelling in and around London for months beforehand, Olympic VIP traffic lanes and my Wandsworth affected by Wimbledon and the cycle race. Boris' voice booming across Clapham Junction station telling me to stay at home. I mutter to him under my breath to pay my wages and I will happily stay at home. All the garbage in the newspaper about this being the best yet needing to rival Sydney 2000 and all of us just groan thinking if they cant manage to get us ordinary people to work each day without delays how are they going to manage an extra 1 million people.
And so it started - the opening ceremony I hear was magnificent. Me and MR planned a night at a comedy show which in the end rumours of the possible closure of Clapham Junction station stopped us even leaving the house - cheap tix fortunately and no train fares paid for. Still I missed it - part of me wishes I had seen it but I was still Ms Grumpy about the whole thing. Then the swimming and cycling and rowing and tennis started and I was in raptures. Whenever MR came home the tv was on and booming. I was loving it until......
the BBC - my bugbear and i will go on about it forever and will be my abiding memory of the London 2012 Olympic games. The BBC being so discourteous as to be intervewing a parent of a British person who got nowhere when in the background you could hear the New Zealand National Anthem playing - a rowing gold. And they did not even cross over for 20 seconds. I was furious and vented my spleen to all that would listen and although I continued to watch I lost my enjoyment of the pomp and the ceremony that encapsulates everything British but still taking delight in the wonderful performance of Aotearoa New Zealand - a small but mighty country - my homeland.
Back to the travelling and the traffic - within days the newspapers were decrying the fact that the Oxford street shops had had their worst week ever as had restaurants - nobody was in London. The fear they installed in us about staying away had worked. they had to stop Boris's voice booming across the station and instead started telling us we should support the shops and restaurants and slowly central London filled up again. My commute was marvellous - school holidays plus the usual crowd on holidays and only a few obvious Olympic spectators and I was in heaven - had a seat easily everyday. The buses in london were the emptiest I had seen them and I got to work earlier each day. it didnt last but it was great whilst it did. I didnt skit about it work as to keep my two working at home days each week.
My Olympic event experience came as a result of my Aussie mate Kathryn who managed to get tickets for none of the major events - my treat was women's volleyball at the Earls Court Exhibition Centre. Very easy to get to from work (15 mins) - queuing for entry was amazingly organised as were security checks and within ten minutes we were in. We were lucky enough to see two of the top ranked women's teams playing each other in a pool game - winner would finish top of the pool - USA versus China. Magnificent physiques and playing ability with USA edging China out. The next game was Brazil versus Korea (sorry cant remember North or South and I know it does matter). Stayed for the first set and then left cos I didnt want to be missing the last train home - a sit at Victoria station until 0500 didnt do it for me.
So as for the rest of the Olympics - my two worst moments
1. Andy Murray beating my man Federer in the mens tennis final (anyone but Murray)
2. Valerie Adams getting silver - still a remarkable achievemnet but couldnt help feeling slightly gutted for her - watched I might add between all the other British athletes featuring everywhere grrrr.
AND one of the best moments when the games were all over and Valerie got her Gold after all.
Watched 5 minutes of the closing ceremony and gave up after a particularly horrible song and went to bed and read my book. 10 days later and my Metro (free morning newspaper) is no longer featuring every single British exploit thankgoodness and is back to its usual nothing but pleasant enough read although the emphasis on football does irritate me somewhat.
And now the wait for the Para Olympics where there will many truly exceptional and brave athletes performing - lets hope the BBC will do a more global coverage this time.
Diary Photos
---