Debbie does...round the world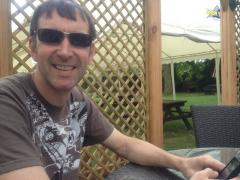 25th Aug 2012 - 26th Aug 2012 - England day trips
Buckinghamshire and Hertfordshire - England
Bank Holiday weekend - public holiday for those down under. Not sure what it celebrates but its a day off which is all I care about.
Main reason for the destinations we went to was to pick up parts for the mighty vehicles - the VW camper - a roll bar thingy to assist with the painting and for Bill the Bedford truck - a spare wheel.
Left at 0800 and travelled to near Aylesbury - my mother's birthplace in Buckinghamshire to pick up the wheel and then back on the M25 to Hertfordshire to pick up the roller cage thingy. All fitted well into Martin's Dad's van. Lunch at a small village pub which was very pretty.
Then onto Knebworth House and Park. One of the reasons we went there was because a classic car show was on but I got the days wrong and it was Sunday/Monday and we were there on Saturday. I would love to go there for a concert as it was a wonderful place. Walked around the gardens and park going through the maze - I won. Then had just started looking around the dinosaur park when the heavens opened - thunder and lightning and torrential rain - had an umbrella between us. The trees did not provide any shelter and we got soaked. waited it out and then made our way to Knebworth House and were just in time for a guided tour through. Interesting history re the Lytton family. Parts of 'The Kings Speech' were filmed here and I really really wanted to roll around on the bed that Colin Firth slept in. Then for a cuppa tea and down to the miniature railway - only the width of a person but so much fun.
Then to the Novotel Stevenage - which was right next door to the park. £49.50 was an excellent price - hotel was clean and modern. Very happy with the room and breakfast also included. Into Stevenage to put up some paint and I found a great store where I brought a duvet cover, towels and silicon muffin cases. Back to the hotel for dinner. We had dithered re getting takeaways or eating at the hotel and unfortunately decided to eat at the hotel. It was ok but just a bit small for the price.
Great breakfast on Sunday morning and left about 0930 to go to Bletchley Park - Home of the Codebreakers. £12 each to get in. This was in Milton Keynes back in Buckinghamshire. Great day out but wouldnt take little kids. interesting displays and definitely do the guided tour ad made it all worth while - very informative about what went on during the war years. It was a well kept secret during the war and yet nearly 10000 people worked here. Saw the Collossus computer - the first one in the world as well as the Enigma decoding machines. I think the thing that most took my interest was the story of Alan Turing - the main man who was the intelligence behind everything. The sad thing was that he was openly homosexual and after the war was over and he was working as a University Professor the powers to be decided to bring indecency charges against him as he was living with a younger man. He lost his job and went on to commit suicide - really really sad.
Left here mid afternoon and travelled back to Horsham - unloaded van etc, visited MR's daughter and grandson and also his parents and then home to bed.
Diary Photos
---