Debbie does...round the world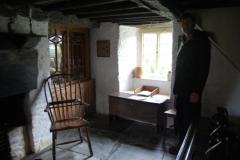 28th Sep 2012 - Cornwall England
Day visiting King Arthur, Doc Martin and Rick Stein
A big day planned today - weather was so so but today was a day i had planned with lots to see and do.
Drove up the west coast of Cornwall to our further est point of the day - Tintagel. I had been wanting to visit Tintagel for a long time and this was it.
Had read about the Tintagel Old Post Office which dated from the 1500's. Wasn't planning to visit but it happened to be right in front of us and it was a National Trust property and therefore being members free for us to get in to. What an unexpected find - it was so quaint and quirky and to think I nearly didn't bother seeing it. For some reason it just struck me and filled me with delight. It is a Cornish longhouse and was still used as a post office until the 1900's. The village is full of tourist shops with some appalling knickknacks and King Arthur memorabilia. Some great looking pubs, cafes and a Cornish Pasty bakery - yum.
The main point for the visit was Tintagel Castle - where King Arthur was conceived and born - the place where legends were formed. What I didn't realise was that you park in the village and walk down a long steep road to the bottom of the cliffs - takes about ten minutes. A land rover charges £2 each way for those who cant do the walk. At the bottom is the prerequisite entrance, gift shop and cafe. The menu looked lovely. Had a latte at Martin's suggestion - think he was trying to make up as half way down the hill he said something that offended me - must have a been a funny about marriage or my weight or something like that and he realised I hadn't taken it the way he intended - hence my hand being held for the rest of the way. Fortunately I get over these things quickly. Saw a 10 minute film on King Arthur and the legend and history of Tintagel Castle. Most of what we could;d see dated from the 13th century - the remains of what Richard, Earl of Cornwall built in 1233. Evidently archeology digs have revealed earlier structures so King Arthur may actually have been born here. Part of the Castle stands on a rock tower cut off from the mainland which is accessed by a bridge and steep steps. A slight confession that my heart did drop slightly looking at the steep walk up with a steep walk down and then a steep walk back to the village. The photos don't quite do the walking justice. this was an English Heritage property - members of this as well so got in free. Up and up and up the steps - - steep and narrow in places so had to wait for others coming down (and to get my breath back). It was mainly ruins but gave a good insight into how difficult to build here but amazing views out to sea, along the coast and back towards the village. Walked all over the headland on which it was situated and then headed back down and back up to the village. Martin took great pleasure in taking photos of me 'huffing and puffing' as he calls it back up the hill. Still i did it without stopping and even passed a couple (I wont tell you they were a good 20 years older than me). Lunch at the cafe attached to the bakery - huge Cornish pasty and a cup of tea - couldn't even fit in a cream scone.
Drove to Port Isaac - a village on the coast and home to 'Doc Martin' - the TV series starring Martin Clunes. Delightful village - again you have to park at the top (and pay for it) and walk down to the village and then back up along a coastal path. The kind of place where it would be lovely to stay and explore once all the tourists had left for the night.
Then back in the car and drove through Rock and back out again and reached our final destination of the day - Padstow or Padstein as some people call it. Made famous by the English chef and author and TV presenter Rick Stein. This used to be an industrious fishing village but now very touristy and has some of the best restaurants around. I had looked at Rick's restaurants on line but decided we would just go to his takeaway fish n chip shop instead. Walked around the village first and brought some green tomato chutney in his shop - Carol's is way better and I have told her so. the takeaway shop finally opened - served in a box - slightly disappointed in the small portions however I was full up - took my NZ Whitlocks tomato chutney sauce and it made it great. Cost £16 for two portions. Had to sit in the car and eat because no seats or outside tables anywhere that we could find. Then did an after dinner walk along the old Padstow to Bodmin railway which now forms the Camel Trail - a popular cycling track. If I had known how reasonably flat it was i might have suggested getting there earlier and hiring bikes - next time :). Walked for about 45 mins and then turned back as darkness was closing in. lovely drive back to our cottage after a wonderful last day in Cornwall.
Diary Photos
---