Debbie does...round the world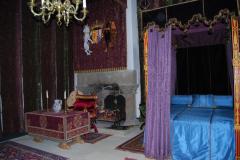 25th Sep 2011 - Scotland
Scottish Castles galore ...
Left Edinburgh early in the morning and took a taxi to the airport to send dorothy on her way and pick up our rental car and for Lynda and I to head off on our Scottish adventure. Amazing how you can get in a car after not having driven for 6 months and it just all comes back to you.
Our end destination today was our new lodgings at Gleneagles and we decided with the freedom of the car to take our time getting there as two splendid examples of Scottish history on our way.
First stop was Stirling Castle - home to amongst many William Wallace - Braveheart and Mel Gibson and Mary Queen of Scots. Arrived a bit early so had time to wander and take lots of photos. Entrance price was £13. Free for me as I'm a member of English heritage which incorporates Scottish heritage sites.
Took some photos and we wandered initially inside - wonderful wonderful views all around - a proper spot for a Castle in stunning scenery. Then joined a tour - well worth it as you get to know so much more. Until the early 1600's it was a peaceful place for kings and queens. Mary Queen of Scots was crowned here in 1543.
History lesson for today...
Did You Know?
Trapped on the bridge
At the Battle of Stirling Bridge in 1297, an army led by William Wallace and Andrew Murray overwhelmed a much larger English force, trapping them on the bridge across the River Forth. The old timber bridge was rebuilt in stone a short distance downstream in the 1500s.

Bannockburn massacre
The most important victory in Scotland's military history was fought within sight of Stirling Castle. The Battle of Bannockburn took place on Midsummer's Day 1314. The castle had been held by the English for 10 years and was under siege by the Scots. King Edward II of England led a 17,000-strong army to relieve the siege. King Robert the Bruce's army of 8,000 men drove the English army into boggy ground by the Bannock Burn and inflicted a massacre.
Defences smashed
The aftermath of Bannockburn changed Stirling Castle forever. After King Robert's victory, the castle was surrendered to the Scots. Bruce ordered his men to smash its defences, in a bid to prevent the castle from being held against him again.

Wars of Independence
Stirling Castle changed hands eight times between 1296 and 1342. This period is known as the Wars of Independence. It began when Edward I of England invaded Scotland and ended when his grandson Edward III was finally driven out.

The mint
The North Gate is Stirling's oldest surviving building. It was built in 1381, during the reign of Robert II. Traditionally, the North Gate is referred to as 'the mint'. Coins were certainly struck at Stirling, but we don't know whether the North Gate was ever used as a mint.

A brutal murder
A brutal royal murder took place at Stirling Castle. In February 1452. William, 8th Earl of Douglas was assassinated at Stirling Castle by James II and his courtiers. Legend says that he was stabbed 26 times. His corpse is said to have been thrown from a window down into the area now known as the Douglas Gardens.

Undignified landing
Scotland's first recorded attempt at flight took place at Stirling Castle in September 1507. John Damian, an Italian alchemist at the court of James IV, attempted to fly from the castle's walls with the aid of feathered wings. He failed completely, landing in a dunghill and breaking his thigh.
Child queen
Mary Queen of Scots was crowned at Stirling Castle. The ceremony took place in September 1543 in the old Chapel Royal (no longer standing). The queen was only nine months old and cried throughout the ceremony.

Love story
Mary is said to have fallen in love at Stirling. In April 1565, her cousin Henry Stewart, Lord Darnley, fell ill. He was confined to his rooms at the castle. Mary helped nurse him back to health, and reputedly became infatuated with the handsome young man. They married in July the same year.

Footie at the castle
The world's oldest surviving football was discovered at Stirling Castle. It was found lodged in the rafters of the Palace. It was made around 1540, from a pig's bladder and a leather skin. It is now held by the Smith Art Gallery and Museum in Stirling.

Enough of that... Left the wonders of stirling Castles and its inside palatial palaces and Great Halls and headed off to Doune Castle which was quite different. A late 14th century courtyard Castle more in ruins - £5 to get in. There is a 100ft historic gatehouse and you can climb to the top for some wonderful views. Monty Python and the Holy Grail was filmed here. Initially used as a royal retreat built by Robert Stewart whose younger brother was King - however he effectively ruled as the King was 'feeble' - lovely word. A lovely place and quick and easy to see. a bit of trouble with the satnav and leaving but after an unplanned delightful tour through the village we turned back and headed the right way.
Made our way to Gleneagles - well 5 minutes outside - an amazing country setting and an amazing apartment/townhouse to stay in - love you and your holiday club Lynda. I could live in this place forever. stunning grounds, inside swimming pool, gym, restaurant and out very own 2 bedroom large place to stay on. Two bathroom and large downstairs with everything you could want - kitchen, washing machine. Just could have stayed here all week without going out. You definitely needed your own transport though.
Went to bed very happy.
Diary Photos
---