Debbie does...round the world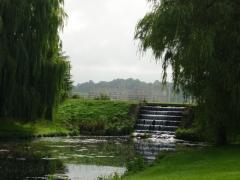 12th Sep 2013 - England day trips
The Loveliest Castle in the World - Kent
Leeds Castle - described as The Loveliest Castle in the World - situated near Edenbridge in Kent.Went for a lovely day trip whilst my Mum was here. Fortunately M didnt have any work for the day so could be our chaffeur. Had looked at various other options - several companies offer reasonably priced day trips from London but as we live out of London to get up there would mean the 0600 train.
I have been here twice before - about 8 years ago and 3 years ago and love this place. Have been in April and October and now september and seems to be lovely at all times.
£21 for adults and £18.50 for seniors. Think children were £13.50. slightly expensive but tis a full day and parking is free and lots of it. Food is available but think next time will pack a yummy picnic lunch. And the best thing - Costa coffee - yum
The walk from the entrance to nearer the Castle is just lovely. There is a small bus but just walk - an easy walk and lots to stop and see along the way - great paths for pushchairs and wheelchairs. Lots of ducks and swans and lakes. Did some exploring through the very old part and then alongside the Castle hoping to walk entirely around it but supposedly you cant because of the golfcourse. I was willing to take a risk but Mum and M werent so back we went. Something new from the last times I was here was a man and a gondola - actually a reasonable price but again couldnt persuade Mum and M to do it.
Then we went through the Castle - every bit as wonderful as I remember it. It was interesting and just not 'too much'. The sort of history I like without the exquisite boring detail. Went ahead of the others as hate people waiting on me or vice versa - I just prefer to meet people at the end of something - no hurry no hassle and just to enjoy.
Then to lunch - sandwiches - not much choice left and slightly overpriced but still were fresh. Walked through the herb garden and had a quick look at the accommodation you can book to stay - looked lovely. then onto the maze - love this maze - possibly one of the best ever with a delightful surprise at the end so make sure you do it. Then we were in time to watch the falconry display and had my first proper look at an owl and owlet - very cute. great display and informative - well worth getting your timing right to see it.
A further wander and then made our way back to the entrance to browse in the shop before driving home. A really great day out with people I love.
Diary Photos
---