Debbie does...round the world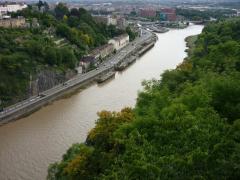 11th Sep 2013 - England day trips
Bristol - Clifton Suspension Bridge and SS Great Britain
Up at a reasonable time this morning for Mum and M and me to go to Bristol for the day. the weather wasnt the best but there was a reason to go.... M and me booked into a 'Living in New Zealand' seminar in the evening.
Drive through lovely countryside arriving late morning. went and looked at the Clifton Suspension Bridge first - drove over it after paying a toll and then parked and walked back over it. Great views down into the Gorge over the River Avon. There was a competition to build a bridge over the gorge which was won by Isambard kingdom Brunel - bit of a mouthful but he went on to do some great times. Finally finished in 1864 after Brunel's death.
Then we found our way down to the riverside and Brunel's SS Great Britain. Tickets are £12.95 for adults and £10.95 for seniors with a variety of combo passes. Also tickets are valid for a whole year to go back again and again.
A word of warning - I would not go back to the cafe/restaurant just outside the entrance. I dont often complain but this day I did - my sausage bap was a large bap - a breadroll to all those outside the UK with onion chutney and a cocktail sausage - smaller than my little finger - for £7 I was outraged and sent it back. M's came out after I had sent mine back and he had two tiny cocktail sausages. For me if you are gonna have a sausage bap and for it to cost £7 then it should be crammed of large delicious sauage.I just thougtt it was a real cheek.
SS Great Britain is a ship obviously - built by Brunel and was 'in service' from 1845 - 1933. It was badly damaged in a storm in 1886 and spend 47 years as a floating warehouse in the faulklands before being scuttled near Fort William in 1937. Then in 1969 there was this amazing rescue mission - after lots of dramas the ship was brought to the surface and then was towed to Bristol to undergo a total rejuvenation to what it is today. In the various exhibits they show exactly how the ship was built, the various journeys it did, and the rescue mission. Lots and lots to see and very interesting. The best bit for me was that you can get an audio guide for when you walk around the ship and you choose who's perspective the story is told from ie a rich passenger, a poor passenger, a crew member. I chose a poor passenger and just loved it. the ship itself is wide and spacious and not too many other visitors. Definitely you need to stop and watch the rescue mission. Also go and walk around the outside underneath.
Just loved this place and one of those places I would always recommend people to go with or without kids.
Then the slight drama started - due at our evening re Living in New Zealand and had allowed plenty of time. My phone map said it was in Bristol and had been advertised as being in Bristol. After a bit of driving around in rush hour traffic we decided it wasnt where the phone told us. Google told us it wasnt in Bristol at all but to the north of Bristol so on the motorway we went and went and went and then down little countrylanes faithfully following the phone map - eventually after a lot of frustration and turning back on ourselves and going around roundabouts twice we found it - we were in time. Informative evening and great for M to hear an independent view re living in New Zealand. I liked that they were actually true and honest re the realities. I was sold and I come from there.I stopped to chat to the movers and then it was all over. Quick stop for dinner at the nearby Brewers arms/Weatherspoons - something like that - Mum was impressed with the all you can eat roast. Long drive back home getting stuck in a horrible diversion that took us miles out of our way on two occassions - M's patience curbed by the fact that my mother was in the car lol.
All together a lovely day.
Diary Photos
---