Debbie does...round the world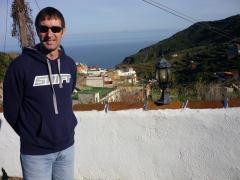 25th Dec 2013 - Tenerife and La Gomera
Christmas Day - exploring the north and north east
Woke up late and figured we had missed breakfast so messed before deciding where we would go. As we passed breakfast at about 11 the host was waiting and gestured us in so took the opportunity to fill up - continental plain breakfast - rolls, cheese, ham, salami, toast, etc and a delicious vanilla panetone (only for today disappointed). Whilst at breakfast I was handed the phone to give someone directions in English which I did do based on how we got there. However felt bad later on as a much simpler way headin up to El Tangue - better road and signposted. Never did figure out at breakfast whom i had talked to to apologise.
No real plans for today - didnt feel like Christmas Day and kind of forgot it was apart from absence of shops etc being open. For me Christmas means family and friends and beaches and BBQ's and roast lamb and pavlova and without that i am not really interested. Hence the being away. Felt a bit for M's family as he is unlikely to have another Christmas with them for a few years (woohooooo) as hopefully we will be in NZ next year.
Drove along the TF42 east - good driving and decided to veer off to a beach - San Marcos. A few people sunbathing on a very gravelly looking small beach - didnt really look appealing in any way. walked up the cliff pathway some ways to take photos but really not a lot to do apart from sit on the beach. Decided we would venture up to the north of the island. Made our way with lots of photo stops. Also filled up with petrol for the first time and were pleasantly suproised with the cost. Eventually ended up in Punta del Hidalgo - wonderful small town with a fe large hotels on the waterfront - would be a pleasant place to come and stay for a few days - a rocky beach and a bit of sand as well as a saltwater pool that looked very inviting - wish I had my togs with me. Decided on a restaurant along the waterfront sitting in the sun - delightful. Decided we werent that hungry so Christmas day lunch was an icecream sundae. Then a long walk both ways along the coastline.
Back to the car and then decided to go via Santa Cruz to the mountains and forest going through La Esperanza up to El Portillo and then turning back down through Aguamansa to the highway. Twas a lovely drive - up and around through the forest - lost any view downwards after a while due to cloud cover which we were above. The forest and views towards Teide were stunning - as we climbed higher left the forest and into a more alpine and volcanic landscape. Again lots of photo stops. Saw a bit of snow and lots of people stopped on the side with kids playing in what little was left. Then back via Aguamansa deciding we would come back the following afternoon to do a forest walk.
Then the fun of driving in a different country. Managed to miss the turnoff to the highway and very difficult to correct so found ourselves driving through Puerto de laCruz (package holiday heaven) on Christmas night - narrow streets, shops and restaurants and bars all open, heavy traffic = Martin's nightmare. Anyway negotiated we did and then for our next mistake - somehow missing the highway again but I saw that we were heading towards los Realejos so figured we would pick up the highway there. No such luck as no signs that we saw so turned in the right direction and somehow managed to go right over the highway and ended high up in La Orotavo negotiating some very steep narrow one way streets completely not anywhere we should be so headed back downwards and ended up at the same roundabout we had made our first mistake at but this time taking the correct turn on to the highway. 1.5 hours in all and we still laugh about it. the great bit was that we saw a lot of the area that we wouldnt have otherwise and saw local neighbourhoods etc. A smooth journey back to La Hacienda with salami, cheese, olives and bread for Christmas dinner. No chocolate though :(. Martin watched Spanish tv - some western and I read.
Diary Photos
---