Debbie does...round the world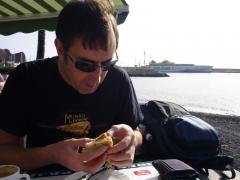 31st Dec 2013 - Tenerife and La Gomera
Leaving La Gomera and back in the UK in 13 hours
Had a little bit of a lie in this morning and went to breakfast only for a quick snack and coffee. We decided we needed to go back to the the Playa de San Sebastian Cafe for one of those yummy sandwiches again - twas the best ever and I ddnt have to share this time. Also a very good coffee. Then back to the port and boarding the ferry - everything was on time and weather was perfect. Bit relieved by this as wondered if I had taken a risk with going from one island to another with only 4 hours til our flight. Smooth sailing saw us back in the horror of Los Christianos in no time. Decided as we had plenty of time that we would walk to small bus stop ( about 20-25 mins from the port) and take the local bus rather than pay for a minicab. this worked well and paid about 3euro each to get to the airport. We were there 3 hours before as per any international flight and were the first to line up in front of check in desks. I had actually checked us in and we had seat numbers but because of no access to a printer we couldnt print out our boarding cards - i should have gone to an internet cafe. So we waited and waited and waited and the line grew longer and longer. Passed by time staring at the family behind us - a black velour tracksuit, a purple velour tracksuit and a pink velour tracksuit with the the one in black looking like she had starred in The Only Way is Essex - all an interesting insight into human nature and behaviour. we kept on waiting with various peoples in the line going off to check that everyone was in the right place. Eventually 105 mins before boarding they opened the checkin desk - the longest wait ever. A straight run through Immigration and security - Yay i got a stamp. Then a dilemma about what to eat as not too much choice and surprising M agreed to eat Burger King with me.
Onto the flight - British Airways - relatively full up with me in the middle seat this time but seemed to be a reasonable amount of room. We got food and free drinks - this flight was about £50 cheaper per person than the Monarch flight so although we didnt get a baggage allowance we got free food and drink. It was more a snacky meal than a full on meal but still good. No entertainment though.
Arrived at Gatwick mid evening New Years Eve - dreary rainy weather and coldish. Took the bus to the carpark. On there were the naughtiest children I had seen for a long time - crawling all over the luggage and falling over everytime the bus stopped - the father screaming at them to sit down and the mother totally ignoring everything. he finally grabbed a hold of them and shoved them in the seat so hard. I think I know why they are like they are. The car started first time after sitting in the damp and cold for a week. Parking for what was virtually 8 days was a shocking £105 - we were speechless for a while and I was so close to the "I asked you to check out minicab prices but you couldnt be bothered" but I didnt.
Home by 2300 and into bed kinda forgetting it was the eve of a New Year.
Hope next year has more travel experiences than this one has had and that by the end of 2014 I am living back in the homeland.
Diary Photos
---