Debbie does...round the world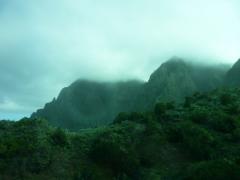 30th Dec 2013 - Tenerife and La Gomera
Circumnavigating La Gomera
Up early as we were going to hunt for a rental car again. Unclear if breakfast was incuded in room rate or not (it wasnt but only about 4euro each). Went to several places to see if they had any last minute cancellations but no - advice is to book before you go to La Gomera and not wing it like we did.
We were still undecided what to do and where to go when we got to the bus station. It seemed most buses anywhere were all leaving about the same time and didnt go that often. Later I realised why as just not the population and demand to support more regular services. One look at the line for people wanting to go to Valle Gran Rey - one of our options - made us decide to go the other way. Lots of walkers with all the right gear who were obviously going to get off at Parque Nacional de Garajonay - I di wonder if everyone would get a seat. We decided to go to Vallehermoso - almost directly on the other side of the island - about 6 euros each from what I remeber - certainly no more. A very pleasant drive via Hermigua and Agulo though some lovely mountains and scenery and about an hour and a half later we were in Vallehermoso. What we realised is how small La Gomera is and didnt really seem anythong to 'do' as such and whilst travelling had decided we did want to do some walking in the Parque Nacional. So the minute we arrived we found another smaller bus to take us further around the island - no toilets at the station - well none that were open. Another 3 euros to take us further around and then up through the centre of the island. After driving through El Cercado decised to get off at Chipude. Had lunch here at a delightful hotel set on the hillside - sun was shining so we sat outside. M having a tortilla and beer and me a sandwich and wine. Cost approx 12euro. Then a long discussion about where we were and how long it would take to walk anywhere (based on a tourist map) and knowing there were only 2 more buses that day. Eventually decided to walk back to the village of El Cercado as i knew i could do that. good choice as our other choice was to walk the other way and the 5 miles to the Parque turned out to be to the edge and not anywhere near any bus stop. So a pleasant walk to the next village except for when Martin decided to take me 'off piste' rather than walking on the road. So down and up a goat track that took me longer because was gravelly and steep but probably much better for me. he does love to see me huffing and puffing up hillsides - dont see the attraction myself. twas a lovely walk in all though and found the bus stop at El cercado and waited and waited. Another couple there who had been walking and after about 30 minutes they re read the bus timetable and decided there was no bus for several hours. i had thought they were going the same way as us. So they stuck out there thumb and within minutes they had a ride to Valle Gran Rey. Our bus finally came along. There was no specific time - we knew what time it left Valle Gran Rey and had to guesstimate how long it would take to get to where we were. As it came along i stuck out my arm but he kept on going so I had to shout and wave and he finally stopped - another 3ish euros per person. Again a lovely drive through the centre of La Gomera and through the Parque Nacional de Garajonay - very alpine in places and evidence of forest fires - landscape changed a lot so we must have been quite high. Back into San Sebastian about 1700
Martin decided on the restaurant tonigh and wanted something that served traditional Canarian dishes - unfortunately the place he had his eye on was closed. We looked around and the other place we liked was full so keep pn walking the streets and ended up at the Hotel Torre del Conde - we wouldnt normally go to a hotel restaurant but the menu looked good and with the food we wanted. It was the best meal of the trip. Started off with a bottle of local wine - i wasnt sure I could drink my share as I have imbibed a fair whack of ron de miel before going out. i managed two glassed and M the rest of the bottle. Delicious starters including Almogrote and a a fish pate type dish. Stuff I wouldnt normally try but delicious. Then I had a gorgeous steak with mushroom sauce. Martin went more traditional and loved it. then decided why not with dessert so picked two traditional desserts - one a milk pudding thing and both very nice - we shared.
Stumbled back to the hotel having had a lovely day - ussually more organised that today of where we were going and what we were going to do but a lovely day all the same. I do think if there was ever a next time we could have seen and done a lot more with a rental car.
Diary Photos
---