Debbie does...round the world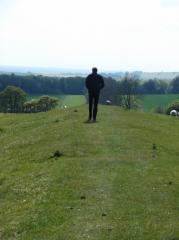 4th May 2014 - England/Wales day trips
Bignor Roman ruins and the old road to Chichester
Today's delight was the old Roman ruins of Bignor - near Pullborough. Beautiful drive thru the South Downs - weather was variable - sun poking through the clouds and a small breeze. Public transport does not realy seem an option so by car or cycling is best. Beautiful site surrounded by farmland and vines. Grat parking and an easy stroll around - no more than an hour needed unless you have a picnic in the grounds - great place for smaller kids as plenty of room to run around. £7 for adults to enter. Small tea rooms but was disappointed that by early afternoon they had run out of scones for my much anticipate cream tea.
The discovery was made in 1811 by the local farmer as he was ploughing his fields - he struck the dining room floor. The buildings that were made to cover the mosaics to protect them are now themselves 200 years old - very picturesque. Well set out and takes you via the history of the discovery as well as how the Romans lived back in the early years of the 1st century. Seems to me they were very advanced - water pipes, underfloor heating, plunge pools, sewerage systems - not really sure how / why it was all lost for many centuries. Bignor was very large consisting of a number of room around an extensive inner courtyard - well placed near the Roman road from Chichester to London to send and get supplies.
Then a short drive to the top of Bignor Hill and we set off on foot along the old Roman Road heading towards Chichester - delightful walk amongst paddocks full of sheep and lambs and amazing views across the Downs towards Bognor Regis and Chichester - the spire of the cathedral seen in the distance. The path meandered slowly down and although loving it the niggling what goes down must come up again was at the back of my mind. Then through beautiful woodlands and a semicircle back - one wrong turning - then the slow uphill grind - easier in some parts than others and 3.5 hours later back at the car. Fortunately the delight of spring and lambs and scenery made it all worthwhile. Definitely bring you ordnance maps and spend some time walking in this area as you cant get much better.
Diary Photos
---