Debbie does...round the world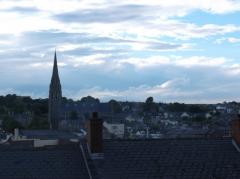 26th May 2014 - Northern Ireland
Driving to Derry via Innishowen Peninsula
Another fabulous breakfast this morning before leaving ballycastle around 1000. The weather was drizzly. Drove along the Causeway Coastal Route (the same way as we came back yesterday but so lovely). Inland towards Coleraine and then to Castlerock with intention of going to Downhill Demesne and Mussenden Temple. Couldnt quite find where we needed to go so back out of Castlerock and on the main road and about a mile later we saw where it was. Looks as though there are 3 entrances - one where you can actually walk from Castlerock into the site, the first entrance at Bishops Gate where you park slightly off the road - good if you itend to walk around the whole site and take 2 hours as takes you through the beautiful gardens and then out along the pond and cliff tops. otherwise go past this entrance and about 500m later you come to the main entrance with a proper carpark and toilets etc. Its a National Trust property so we got in free but otherwise its £4.50 for adults but this also includes the entrance to Hezlett house and gardens a bit further down the road. Raining relatively heavily when we arrived but decided not to let that stop us. Initially under the cover of trees etc but got reasonably wet. Very lovely spot and a great walk - would recommend reasonable footwear particularly down in the garden / pond area. Up steep steps with a lovely view over the beach and rail track/tunnnel and then up to the Belvedere (summer house) and then further along the cliff edge to the Mussenden Temple itself. This was built in 1783 and is right on the cliff egde and originally built as a library. Magnificent views. Then on up to Downhill House - would have been magnificant in its time amd built in 1774. Evidently still in use til WW2 and now is in ruins. think there must have been a fire or something as am sure it would have been preserved more otherwise. Then a walk up to the mausoleum and back down to the gardens. The weather much improved. From the temple there is a gorgeous view to the left of a beach so so long and sandy looking towards Magilligan point and Donegal.
Continued the drive and due to messy weather decided to continue around the Innishowen Peninsula - near the top you need to watch out for your turn offs as we ended up going as far as the road goes without meaning to. Turned back and eventually found where we needed to go. went via Muff and Moville and then cut inland to Carndonagh and Buncrana back down to Derry. Wonderful landscape particularly inland.
Stayed at Premier Inn Derry - only reason was a £29 room. Fairly new and near a large shopping centre across the river from the City Centre but fairly close. No opening windows and still warm in the room but not as hot as Belfast.
Decided to walk around the City Walls. Found a carpark and walked through the streets to get to the wall we could see in the distance. We entered via Castle Gate and did a 45min to one hour walk around. You can see a few of the Bogside murals as well. They were built around 1614. well worth doing. Found a takeaway and took to the riverside to eat watching the sun go down in the most beautiful way. M said to me once he got to the car that he didnt feel 'comfortable' around the Castle Gate area which was quite weird as I felt slightly uneasy as well. Think just a few bars and drunk people rather than anything else.
Diary Photos
---