Debbie does...round the world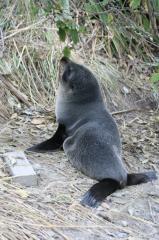 5th Jul 2015 - Adventures in New Zealand
Kaikoura Cliff Top walk
We have been talking about doing this walk for a few months and decided that we wanted to get away for the day and the winter weather wasnt looking too bad. Armed with a packed lunch, our new thermos flask filled (thought of you Gran and Grandad Bill) and a stop along the way at the Kaikoura Bakery (main road) for a goody each we drove to the seal colony. Ihad forgotten how beautiful Kaikoura and its coastline were and we were treated to some spectacular scenery that the photos really dont do justice. Although fabulous to have my DSLR back again - well until the battery ran out 3/4 way through.
Lonely Planet describes Kaikoura as 'a stunning town with a superb setting on a bay backed by the steeply rising foothills of the Seaward Kaikouras, magnificently snowcapped in winter' - I couldnt have put it better myself.I remember growing up it was a sleepy food and drink stop on our way elsewhere and now its one of the main tourist stop off points because of wildlife adventures - whale watching and swimming with dolphins as well as the seals galore. lots of walking opportunites as well which is what we were there to take advantage of. I had actually done the walk 10-12 years ago and it certainly has been upgraded since then. Set off and right at the beginning of the walk way up the hill there were two gorgeous young seal pups sleeping and then playing in the vegetation. Up the hill stopping to take photos and then walked along the cliff top all the way to South Bay - stopping at the lookout over South Bay to eat lunch. Various sites say its about a 2.5 hour walk and you can walk over the clifftop and back via the beach (depending on the tide). We did it over 3.5 hours but I am definitely not the fittest or quickest. I suggest walking along the cliff top to South Bay to savewalking up a huge number of steps to get to the cliff top walkway. There were hundreds of seals lazing around including several on the path itself. I am always a bit wary particularly when they have youngsters around.We did nt really calculate the tide thing at alland were fairly lucky not to be another 15 mins laterotherwise we may have had to swim around. Even so the rocks were a bit hairly for me and of course M with his long legs was merrily hopping and clambouring over everything. At least I didnt get my shoes wet which happens on most walks.Lots of birds everywhere and only ywo other people on the beach part of the walk so really quite magical.
Was certainly knackered by the time we got back to the car to be greeted by more seals - one under someone elses car so theycouldnt drive off. The cinnamon cream donut and coffee certainly helped perk me up. A truly wonderful day which again makes me grateful to have the opportunity to live in this wonderful country.
Diary Photos
---