Debbie does...round the world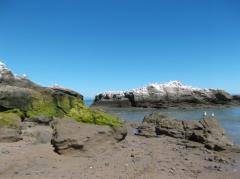 18th Jan 2015 - Adventures in New Zealand
One of those amazing days - Cape Kidnappers Gannet Colony
Up at the ungodly hour of 0430. Today was a surprise for M and he had no clue what was happening other than he needed to have his sunhat and long sleeved shirt and walking shoes on and that it must be pretty special for me to get up at the time I did.
Lovely early morn drive to Cape Kidnappers - took about 30 mins and the early morning light made it all the more special. M eventually guessing about 5 minutes before we got there because of the signposting. He had hoped that would be what we were doing. Thanks Mum for the Christmas money that paid for it $44 for each adult as well as family rates www.gannets.com
Cape Kidnappers in the largest mainland gannet colony in the world. Need to allow 4-5 hours for the eco tour and each day's timings are different as all done around the tides. The day was just perfect - a little wind, sun and blue sky and a magnificent rugged beach / coastline stretching out in front of us and tractors and trailers - woo hoo. Each tractor trailer unit had a driver/guide who would stop along the coast line at various times pointing out various geological features including earthquake fault lines and fossils - done in a very interesting informative and humourous way so we learnt a lot re rocks and cliff formation as well as the gannets and importance of the coastline and also ecology and conservation. We were just in our element hanging on for dear life at time as trying not to get wet but its the sort of tame adventure that I just love going in and out of the ocean, getting stuck in the rocks, being pulled out, wind in my hair etc.
Finally got to the end after 13 kms having past a hardy few walkers. Then a walk to the gannet colony itself - up a steep rise and then across farmland before going up again - about a 30 minute walk there - some fitness is required. There is an alternative coach tour from Napier that goes on a back road for those not wanting any adventure and walking is minimal. M was way ahead of me as we only had a certain amount of time and I was in a long queue for the toilet and I am definitely a slower walker than him. However it did all work out. The colony was amazing - so many more birds in the colony than I thought and just so magnificent and beautiful - really hard to find words to describe it. One of the things you have to do if you are in this area. Quick walk back and onto the tractor/trailers for the trip back - equally interesting seeing it from a different perspective. The sun was well up and getting towards late morning so slathered ourself in sun lotion again.
Had lunch at Clifton - reasonable price and quality.
Then Martin's second surprise - a car museum which he wandered about happily for hours. About a $10 admission fee. I lucked out here as during the morning I got a phonecall from the motel owners to say she thought I had left our pillows and taken theirs - a quick check and yes I had done so. Communication between me and Martin - he made the bed and I presumed he would have have put our pillows in the middle of the bed instead of theirs. Anyway it meant I have to miss the car museum so left him there to do the hour round trip to Napier to collect them.
Then the long drive to Wellington - about 4.5 hours but got a bit stuck in traffic which we hadnt anticipated so a bit worried about missing our ferry but all turned out well in the end getting there just in time. Smoothish sailing again which we both slept through and home by midnight.
Fab few days away :)
Diary Photos
---