Debbie does...round the world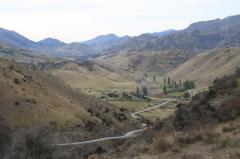 1st Apr 2017 - Adventures in New Zealand
The Molesworth Road - Marlborough to Canterbury
This was a long awaited trip to drive the Molesworth and the Rainbow Roads. Have always wanted to do it and particularly since being back in New Zealand but was acutely awarethat the right vehicle was needed. Finally 7 weeks ago we brought the Pajero (hereafter the Paj) - needed some doing up which MR has spent his weekends doing as well as a WOF with also a deadline of Easter looming as the roads close over winter.
There is a brilliant brochure put out by DOC on the Molesworth which can be brought at an iSite for $2 - need to also check DOC website as both roads can close if high fire risks, adverse weatheretc.
Left Blenheim at approx 0930 after fuelling and coffee (and arranging car insurance lol) and headed up the Awatere Valley towards the Molesworth Cobb Cottage. This is 100kms starting with a tarseal road and then gravel roads the rest of the way until you reach Hanmer Springs (207kms altogether from Blenheim to Hanmer). Saw lots of merino sheep and a few vineyards going up the Awatere Valley and were pleasantly surprised re the road condition.Also a reasonable amount of toilets along the whole road - at most of the information areas.
The area was first explored by Maori and they had established routes for getting north to south and east to west for food gathering etc. Maori guided early European explorers through the area such as Thomas Brunner. In the 1850s and 60s it was established as a stock route with many thousands of sheep being driven throughfrom Nelson to Canterbury. Accommodation houses were eventually built to service the route and must have been an amzing journey on horseback or in a buggy. The roads themselves were built to enable the construction and maintainence of power lines hence so many showing in some of the photos. The farming is mainly in regards to cattle.
Stopped at the Molesworth Cobb Cottage for lunch moving away from the small camping area where a group of younger people had set up camp with music blaring. After lunch looked through the Cobb Cottage - very interesting. I have a special interest in cobb cottages as my great great grandfather built the one just outside of Blenheim. This one was built in 1866 and signifys the start of the Molesowrth Road. We did a 10 minute walk up the hill behind the Cobb Cottage to have a view over the exsisting Molesworth homestead and various outbuildings. Easy walk up a small hill. Lots of interesting information panels throughout the whole road and worth stopping to look at.
Continued on climbing up Wards Pass. This was my turn to drive the new vehicle and it was the hardest part so far but I did ok and was soon whizzing along. The section on the valley floor through Isolated Flat was spectacular and lots of photo stops. The river winds its way through the valley and lots of little flowers and pasture grasses etc. Saw the trees marking the grave of Ivanhoe Augarde - interesting story of unrequitted love and murder and suicide. Then onto the seeing the old suspension bridges - most washed away in floods.
Passed the Acheron Accommodation House - cant go in ?earthquake damage and then again following the river to Jack's Pass. Jollies Pass is definitely a 4 wheel drive only road. Martin drove through a ford and decided it was a good opportunity for me to do it seeing as I love driving thru rivers. Unfortunately he doesnt know that I dont know what I am doing lol and i stalled going up the other side. and lost a little confidence.Lovely views from Jacks Pass looking over Hanmer Springs and the valley.
Made it to Hanmer Springs laste afternoon - took a longtime as we had lunch stop, tea stops and many photo stops. Stayed at the Glenalvon Motel in Hanmer where I have now stayed several times $130 per night and is our preferred place - very clean and spacious and straight across road to the Hot Pools. Dinner atFire and Ice where I have had fabulous meals in the past - not so tonight - understand owners had changed. Dont bother with the cocktails either - not luscious and full of ice.
Diary Photos
---