Debbie does...round the world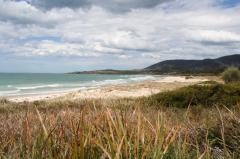 26th Oct 2016 - Tasmania and Melbourne
Bay of Fires - Binalong Bay
A late start to the day with MR doing a 16 hour sleep (incredibly unusual) but what he does after a long flight to readjust himself.
Plan for today was driving north to Bay of Fires and we set off at lunchtime planning to have lunch along the way. Sometimes despite all my research I feel I am a bit naieve - so prteyy much nowhere or nothing between Bicheno and St Helens - few small settlements but certainly nowhere to stop for some lunch or even coffee. However it was a beautiful coastline and driving through the Chain of Lagoons was lovely with a stop at Four Mile Beach - very tempted to plunge in for a swim even though it was only October. Stopped at St Helens which is a pretty fishing town - found a bakery for lunch and a supermarket for supplies for the next few days for breakfast and lunches.
Then onto the highlight of the day - Bay of Fires Conservation Area which stretches from Binalong Bay to Eddystone Point in the north. We concentrated on the Binalong Bay section due to time. Lots of photo stops and walks particularly in the conservation area - beautiful beaches and coloured water and flowers and the orange lichen covered rocks etc.
I think Lonely Planet has often named Binalong Bay as a 'hot destination' and it sure is lovely. The Bay of Fires name is said to have been due to the Aboriginal fires on the coast line seen by the explorer Furneaux but also could apply to the orange lichen covering the roacks. There are so many long and short walks to do in this area that I think it was deserving of more than an afternoon.
We drove back mostly the way we came but detoured inland via St Mary's to do something a bit different.
Diary Photos
---