Debbie does...round the world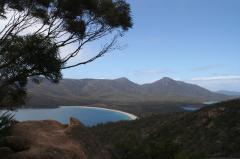 27th Oct 2016 - Tasmania and Melbourne
Freycinet National Park - awesome
Today was the day of the Wineglass Bay cruise and walking. I had agonised a bit re whether to do this or not due to the cost $140 per adult but decided after reading reviews that it would be worth it (and lunch included lol). We arrived nice and early to Coles Bay after an hours drove for the departure but alas not to be. They had cancelled that days cruise because of expected high winds and we could either get our money back or go the following day with being reasonallt assured the weather would be ok. The dilemma being the next day we were due to go to Maria Island and we were then moving on. oh what to do....
Anyway we decided to do all the walking activities we had planned for the afternoon which actually ended up taking all day - it all worked out for the best really.
Freycinet Peninsula - lots of white sandy beaches, bird life and rugged peaks. Famous also for its granite whichis in many a government building. Quarried by Italian stone masons from the 1930s for 40 years until it became uneconomic.
Drove to the Freycinet National Park main entrance and paid our Parks fee of $24 - worth spending half an hour here as interesting exhibits and history sections on the Peninsula. Then on to the carpark for the Wineglass Bay look out walk. Had done some research to make sure I could actually do the walk as knew it was all uphill - in thened it wasan hour long walk for me. Plenty of rest stops along the way. A kind much older lady saw me resting and actually contemplating how much more I could do and told me it was only about 5 minutes more although a steep section to come. It was so worth the toil and the breathlessness lol.Amazing views and the cloud and slight rain went away to make good photographs. Going down was much easier - my new tramping shoes doing their job brilliantly.
Went to Freycinet Lodge for lunch as had been given a free drinks voucher - our first taste of Tasmanian wine. Lovely complex - meal was fine - slightly expensive butlovely views.
Then drove to Cape Tourville and the lighthouse - lovely drive on a gravel road. There is a board walk around the lighthouse making it easy walking for all including wheelchairs. Info panels along the way.
Stopped on the way back to the road to do another walk down to Sleepy Bay - about 20-25 minutes each way. Lovely beach and rocks to explore.
Then on the way back to Bicheno took a detour to the Friendly beaches - beautiful spot for camping and the beaches were rugged but beautiful.
Once back in Bicheno MR did another small detour to the Bicheno blow hole - fortunately the tide was right and we saw a few 'blows'. Dinner was to be pizza at Pasinis - no free tables so got takeaway. No hot chips :(. Also a bottle of Tasmania riesling - yum.
I had also planned but not booked to do the Bicheno Penguin tour and the Devils in the Dark - both evening tours but due to having already had full days whilst there and MR's jetlag didnt do them. However they were reasonable prices and had good reviews and would do them if ever there again.
Diary Photos
---