Debbie does...round the world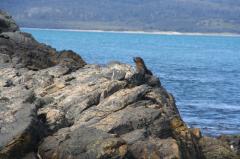 28th Oct 2016 - Tasmania and Melbourne
Wineglass Bay Cruise - Freycinet Peninsula
Left Bicheno for the final time today. Enjoyed our stay here and would recommend it.
Back to Coles Bay and yes the Wineglass Bay Cruise was going today. Whoopee. Got good seats on the boat next to a window. Ability to go outside at the front and back of the boat.Commentary was good and learnt a lot re the Peninsula and its activities over the last 2 centuries.Lunch was a bento box full of bits and pieces - very nice. Saw seals, penguins, birds, eagles and most fabulous of all some whales. Very hard to get photographs becausepeople didnt move so had to settle for the pure joy of watching them frolic about. There were two adults and a baby and they stayed aroundfor about20 minutes before slowly moving down the coastline. Then into Wineglass Bay before the return journey. A lovely lovely day.
Then the drive down to Orford with a few road side stops along the way. Loved the spikey bridge built by convicts in 1841 - so unusual.
Stayed the night at the East Coaster Inn - an older style room for $99AUD - very pleasant and clean. Ate in the restaurant - one of the best steaks for a long time - MR winning with his choice of sauce. Unusually for us we ordered a bottle of wine- again very good.
Diary Photos
---