Debbie does...round the world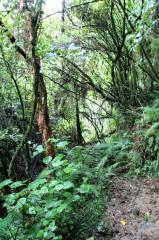 16th Apr 2017 - Adventures in New Zealand
Karamea - walking
3 walks today overall - still recovering from yesterday's walking. Weather was reasonable with sun and cloud all day and temperature was ok as well for this time of year.
Firstly we took a drive up Arapito Road - the road up the right bank of the Karamea River - so lush up there. Stopped to take a look at the beginnings of the Mount Stormy track - starts over farm land hence needing to get the owner's permission but would be a very daunting day walk as up to 8 hours return and looks to be straight up the mountain. Magnificent on a lovely day though but not way out of my current lack of fitness zone.
Then parked at the start of the road and started the South Terrace Zigzag walk - 60mins return to a lookout and the old cemetary used by early settlers. Evidently the track itself was also used by the early settlers. Harder walk than I expected - the name is right it is a zigzag up the side of a fairly steepish hill - track conditions not especially good after the recent downpoursbut should have expected that. Lovely views at the top at the lookout. Cemetary was a slight disappointment as there was a marker / board and then all in the trees - not sure what I was expecting. I continued the track and walked along the road at the top whilstMR returned to the car via the trackand drove around to meet me. I didnt particularly want to slither all the way down and we would have missed out on other views if we hadnt had done this.
Next we back up Umere Road on the left hand bank of the Karamea River to the Big Rimu Walk. About a 45 minute walk thru native bush to a very large rimu tree - lovely undulating track that pretty muchly anyone could do including the very unfit. Huge rimu tree that cant fit into one photo lol unless you have panorama.
Then down to the Karamea Riverbank and Estuary walk - a quick cup of tea and a shortbread looking at the beautiful views over the estuary. Didnt see a lot of birds. This is supposed to be 45 mins plus. We walked one wayfor about 8-10 mins and then you walk back the same way and go the other direction twards the mouth of the estuary. Few people here with some children paddling in the water. Intended to do the walk back via theriver bank but a huge dark cloud was looming - I was willing to risk it but the Englishman didnt want to get wet so back we went.
Dinner tonight at The Last Resort - not amazing but ok. Their roast option was reasonable value for money. Cake dessert portion was tiny - 4 mouthfuls between us and it was gone.
Diary Photos
---