Debbie does...round the world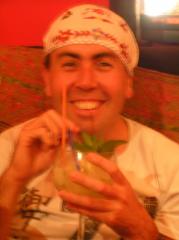 31st Dec 2008 - South America - bits of...
New Years Eve
Well a wet and rainy start to the day. Cleared up slightly during the day but the weather lost it again in the vening. Ankle much more better again today. Did some newsletter articles and last minute washing which due to damp and cold is now taking a lot longer to dry. Went into Cusco Centre at 1100 to getmy hair cut and coloured. Sebastians di a fantastic job again and the cut was exactly like i would have got in NZ which was great as I wasnt sure about it but will be much better for the warmer climates of Lima and then Florida. She does a great head massage as well. My hair colour is pretty much back to my natural colour as i never got used to the darker look. Walked quickly up to Los Perros for lunch as thought I was late but was the first there so got tables for us all. Had the wontons and the hamburger. Would have to say that this is the first time I have been disappointed there as the hamburger didnt have the stilton cheese it had last time so wasnt quite as tasty. I only ate half and took the other half home. Back at Larapa by 1600 and did more packing. Sentusa cooked us lunch which we didnt know about so we all had it for dinner - lomo saltado, arroz and papas fritas with torte platano for dessert. Some started drinking early. I had a couple of fruit punches but didnt really feel interested in drinking so didnt. we all sat around chatting in the early evening. Asha had some friends arrive from Oz who had been travelling around and to our surprise 3 guys. the one I fancied was 31 so in my age range. Spent a lot of time talking with him as we had heaps in common. Then into Cusco Centre about 2130. It was pouring with rain and difficult to get taxis and one tried to charge us 20 soles when it is normally 6 soles or thereabouts depending on the time of the day. Went to Nortons and sat about and played pool for a while. Julia was unexpectedly quite drunk as she had been sick and it affected her quickly so looked after her a bit. Towards midnight it was still pouring with rain and there were no spots by the windows to see the fireworks going on so gerry and I decided we would join the masses in the pouring rain to do the run / walk around the Plaza DÁrmas which is supposed to bring you good luck. We got absolutely soaked and only did the circuit once as it was raining so much and there was so many people. Lost Gerry a few times but took lots of photos on his camera which I will add later. It was a wonderful experience with fireworks going off everywhere. Back to Nortons where we caught up with Brook and Trev before heading off home about 0200 and in bed by 0300.
Diary Photos
---