Debbie does...round the world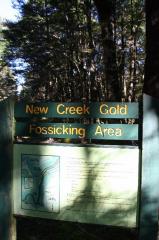 23rd Apr 2017 - Adventures in New Zealand
4WD adventure - Porika and Braeburn tracks - Nelson Lakes National Park
Our first proper 4WD adventure in the Mountain Hunter - previously the Pajero however we now know what this translates to in Spanish and have renamed her the Mountain Hunter.
Left Marlborough and headed towards Nelson Lakes National Park - stopped at Lake Rotoiti which was looking beautiful as usual for a cuppa and then i took over the driving for what I thought would be a short while. Turned off up the Howard Valley Road - virgin road trip as have never been up here before. Lovely meanderings along a gravel road and beside a river before finally getting to the Porika track sign - it was closed !!!! We have checked 2 days before and it said it was open. Anyways we were quite set on what we had planned so decided we would go asfar as we felt comfortable on it and then turn around and retrace our steps. MR refused to take over the driving and so it was up to me. So up and up and up we went on this track - it wasnt a road in any sense. Beautiful bush and forest far from any civilization and it felt like we were in the middle of nowhere which we actually were. Some evidence of the hugerain from a week before as some parts were very boggy and muddy but I kept driving over and thru everything with MR throwing out helpful tips along the way. A couple of times i wanted him to take over but he said I was doing well so may as well continue. To be fair it would have been easier if it had been drier and in the summer months. I didnt realise this was a goldmining area so there was a few information boards about the history of the area and remnants of previous digging etc as well as a few short walks. The top of the Saddle appeared quickly and then it was scarily straight down a zigzag road which had a few corners that you couldnt get around in one go - so a few back ups and trying again. So pleased there was no other traffic on it. Great views over what I think is the Gowan Valley and Lake Rotoroa and soon enough we were at the lakeside being attacked by the mozzies and for this reason decided to stop further up the road for lunch.
So a work of warning - the Porika track is definitely for 4WD only and a high clearance is needed on any vehicle. Not a lot of mobile phone coverage and a winch would be helpful. Its not for the faint hearted. It is also a mountain biking track and therefore you need your wits about you not just for the driving aspect but as well as for bikers and other vehicles.
Then we drove via the Braeburn route to Murchison via the Tutaki Valley. This is really just a pleasant gravel road that 2WD vehicles can travel on as well. There are a few fords with reasonable amounts of water in - loved driving through these. Had a lovely lunch stop on the side of the road along the way - took about another 1.5 hours with the stop until we got to Murchison.
Motel for the night - Mataki Motels - standard studio for $125 per night. Clean enough although not a lot of room to move about in. Settled in and did a long walk around Murchison for over an hour. Decided to go to the Hampton Hotel for dinner - it wasnt great and an even bigger disaster with dessert - took them 15 mins after ordering to tell me they had run out.
Brilliant day though
Diary Photos
---