Debbie does...round the world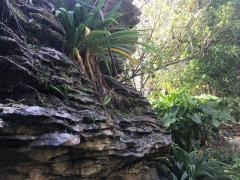 6th May 2017 - Adventures in New Zealand
4WD around Golden Bay
Another small sleep in and yummy breakfast
Firstly we drove to the Labyrinth Rocks having heard a lot about them - just on the other side of Takaka - free to get in. Tis described as a 'maze like network of canyons thru a limestone outcrop' according to one article. Great for children as lots of hidden figures for them to discover. Very interesting formations and bush surrounding it all. 30 mins is enough if you dont have a lot of time.
One of the highlights of a trip to Golden Bay for me is to go to the Dangerous Kitchen for lunch (last time we were here it was closed :( ) They do the best pizzas I have ever tasted particularly of the vegetarian variety (I am a meat eater) and are so yummy. Who knew spinach on pizza could taste so good..
Then we decided to go up the Rameka track - which you can do in a 4WD or a mountain bike. It actually starts as a mountain bike track up on the Canaan Downs scenic Reserve and then come down to East Takaka. We drove up as far as we could drive from East Takaka. A gravel road in ok condition- steep and winding in parts but great views everywhere. Would be for experienced mountain bikers in parts i would assume. Saw a few cyclists at the bottom of the track who had finished but didnt pass anyone along the way.
Next stop was The Grove Scenic Reserve near Pohara. A 20 minute or so walk to the Lookout via nikau palms, rata trees and limestone gullies - view is over farmland and the Motupipi Estuary and Pohara Beach.
Then we decided because we had some time left in the day to drive to Totaranui as neither of us had ever been there. Didnt take as long as I had thought but we were only 30 mins away from dark so arrived and didnt really spend much time there. So on the hit list to go back there for a day on our next visit and explore the area a bit more. Drove back mainly in the dark.
Diary Photos
---