Debbie does...round the world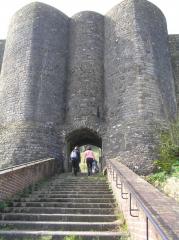 11th Apr 2009 - England 1
Dover Castle and the Grey Cliffs
Up at 0730 to get down to our free cooked breakfast which was pretty good. We set off to Dover which was an easy 30-40 minute drive from Canterbury - easy because of the GPS.
Our first hurdle was about 100 steps to get up to the gate - maybe a slight exaggeration but not far off. We were then talked into buying a National Hertage Pass for 43 pounds which is actually very good value. You get into 400 sites for free and more at a discounted price. As it cost 15 pounds to get into Dover Castle it seemed we only needed to go to 3-4 sites over 15 months to get our money back.This is not to be confused with the National Trust pass which is different.
As part of this we got two walking tours free and we did the Gateways and Barbican walk as well as the Secret Wartimes Tunnels tour.
Dover Castle was built in the 1180's with some roman ruins which were built about 950 years prior to that. I have to say the defences of the castle were pretty impressive. Its amazing to think that all those years ago that people were reasonably intelligent and able to defend themselves so well. Unfortunately the insides of the main building were being done up so couldnt go in. The barbican was amazing. Two solid gates that were counter balanced as well as a moat as well as a curved uphill ramp to the gate so the attackers couldnt get a running go at the door without slowing down around the curve. There are also medieval tunnels built during 1216 - 1217. There are also the secret wartime tunnels which were carved out of the chalk cliffs. It was here that someone Ramsey launched the Dunkirk offensive as well as other wartime planning. A lot of Dover and the surrounding areas were bombed during the war but they reckon that Hitler deliberately didnt bomb Dover Castle as it was the main strategic entry point to England and that if he ever did win the war then having Dover Castle as the Germans headquarters would have been a further moral blow to the English - makes sense I guess. We walked and walked here up and down - about 5 hrs in all. Saw a magnificent sword, shield, bow and arrow and knights costume which James would have loved and if it was easier to take back to London and ship back to NZ I would have brought it for him.
Left about 1500 and had a snack lunch by the car - muffins, chocolate, more chocolate and more muffins. Drove another 5-10 minutes to visit the Gray Cliffs of Dover otherwise known as the White Cliffs of Dover. Reasonabley disappointing but also knew that as had seen before from the ferry 4 yrs ago when i went to France. The cliffs are made of chalk but are gradually eroding
Then went down to the port of Dover as we all wanted to get a photo up to the Castle. Actually a nice pebbly red colour beach and the water looked reasonably clear for being in a port. Walked out onto the long pier - several of us tired of walking by now.
Parked the car back at the B&B and walked the 10 mins into Canterbury. Forgot to mention that last night we did a ghost walking tour of Canterbury. Quite good actually although have no belief in ghosts whatsoever. Walked up and down the main street and found some nice gardens - took ages to decide re dinner and eventually went to a pasta and pizza place which was slightly on the expensive side but still just under 10 pounds which is like getting a meal for under $15. Back at the B&B by 2130 and I went to sleep straight away as exhausted by all the walking.
Diary Photos
---