Debbie does...round the world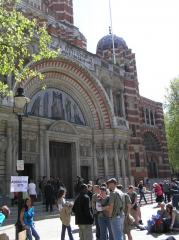 20th Apr 2009 - 27th Apr 2009 - England 1
What a week - The Rescue
Good weather with some beaut spring days. On one occassion I went to the local park on the way home and say for 30 mins and on Weds i brought some salad and went straight to Clapham Common to get the warmer sun before making my way home. So nice and makes you feel happier. Have been swapping books with one of the access workers at work which is great as we like the same type of crime books and each have some books the other hasnt read.
Work has been fairly ordinary this week. Still very busy but has been slightly calmer. My colleague Mary was back after 4 weeks annual leave which means we no longer have a fill in each day which helps. She was due back on Monday but Colorado had a snow storm so she didnt get back until Weds. Still a few things bugging me at work but i just have to remember I am not there forever and it is not in my best interests to invest my energy into their problems which have been there for a long time nor should I invest my energy into helping sort out some of the problems which i could easily do.
My tube story for the week. On Tuesday on my way home we got stuck between Green Park and Sestminster for approx 30 mins. The reason being that a man had refused to get off a train at Willesden Green that was not continuing further. After some time TFL continued the train to Wembly Park with just this one man on it so they could keep the Jubilee Line going. He still refused to get off so the whole line stalled in rush hour until the Police could arrive to remove him. I hope he had a good reason to hold up what i estimate to be potentially 50000 people.
Thursday night we (the few friends I do have) met up at the Slug and Lettuce in Clapham Junction for Scotts birthday dinner. I have no idea how old he is. We had 50% vouchers. Met a new guy Joe whom Scott and Liz travelled with in SE Asia. Think he had a girlfriend who couldnt be there. Had a great time and dinner with a drink and 50% off came to 7 pounds which we were all happy with. Travelled home most of the way with Andrew and Nancy as usual falling into bed at 2330. Had a lovely evening helped by that it is only a 30 minute bus ride from work. Had a great time talking about our anticipated holiday to prague next weekend. Our apartment is in the centre of the Old Town and there is plenty to do in Prague itself so will have to go back again one day to do the other things outside of Prague like Cezley Krumlof (I know the spelling is wrong). I do have to check to make sure I dont need a visa. Leaving work at lunchtime on friday so will lose 4 hours pay but worth it. Monday is a holiday and we arrive back Monday night.
Saturday I slept in forever - about 1100. Messed around for a while and then got ready to attend The Rescue - a march and sleep in held by Invisible Children in various cities around the world. This is the organisation that Tim has devoted 9 months of his life to in the US of A. It is a great cause and i really encourage you to look on their website www.invisiblechildren.com and have a look at the videos they have produced on the situation in Uganda with the child soldiers and abducted children. In a few of the later videos Tim is in there so you can see him. The march started at Westminster Cathedral at 1500 and we walked 4.2 miles - yes, quite a way. We had a rope which we hung onto in groups of 20 and handed out small leaflets. There were only about 5 of us over 25. The funny of the day came from me I think. About 30 mins after we started the march we were going thru a park with a rather impressive building on the side. I turned aound to an older guy behind me and remarked it was rather impressive and I might come back to take some photos and where was I so I knew where to come back to. I think he thought I was joking as he replied that the park was St james and the building was Buckingham Place - I did slightly feel foolish. The march took 2.5 hrs and we were all stuffed by the end of it. The majority were then staying in Potters Field Park until they were rescued by a celebrity - overnight if required. i left about 2000 feeling I had done my duty to Tim and the cause and finally got home about 2100. Tbe lines and preparations for the London Marathon affecting my usual route. A great day, great weather but extremely tired.
Sunday - slept in to 0930. Then cleaned the box which by the way is so much better since shifting all the furniture around. i will take photos so you can all see. Watched the London Marathon on TV being slightly disappointed as I thought about going to watch but then decided against joining the hundreds of thousands expected although the TV coverage showed lots of space along the course. Hada wonderful chat to Carol on skype and saw baby Jasper who was very cute. It is so wonderful being able to talk to people. Then watched the qualifying for the Bahrain Formula One. Then as such a lovely day went to Sainsburys to do the weekly shop and as the weather was so beautiful when i got home I headed to Gladstone Park and sat and read my book for 2 hours as need to start my tan off. Now I am cooking dinner and catching up my blogging.
Next weekend as I am away in Prague - oh did I say I was going to Prague for the weekend - I wont be updating until Monday or Tuesday evening.
Diary Photos
---