Debbie does...round the world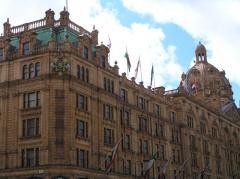 11th May 2009 - 17th May 2009 - England 2
A better week....
well it could only get better and it did. My manager was so busy this week he left us alone to do our thing and it was wonderful. I got so much done and although I took on a lot of new stuff I also did stuff that I should have done weeks ago - if this coming week was to be the same then I might even be happy at work by the end of the week. Fortunately my colleague Mary is not irrate with the manager than me and she has known him for 2 yrs. Evidently he got the job on the second round of advertising and had no competition. He is actually a nice man but has no idea how to manage - particularly two staff who are his equals if not superior :)
Thursday night was a bit exciting as when I was cooking dinner there was a bit of an explosion from the oven wall socket and I lost all electricity. The one good thing was that the pasta was cooked so I continued to eat. the bad thing is that I thought the smell was from the socket not realising until later that the charge had gone through the electric jug and heated it so much it melted into the stove top and it wouldnt budge. A good excuse the next morning to get a Costas coffee on the way to work - I find good excuses twice a week. I rang the accommodation agency and when I got home I had electricity and a new electric jug.
Saturday I messed around in the morning and then took the bus to Hammersmith - an hour of hell as usual. Got to the myOE house to pick up my mail which was the reason for the jouney only to find out it was two really crappy things that could have been thrown out. One was HSBC (my bank) writing to me to say my account was 6 pounds overdrawn (their bank fee per month) and a big swag of booklets re debt and reducing debt and was there any way the bank could help. All for 6 pounds that they charged me - Im sure what they inluded cost 6 pounds. It was all from when I first opened my acct andthey took out the first months fees before I had a pay. Then to Westfields as there is a Katmandu shop there - a little piece if Kiwiland that I love and miss - brought some socks. Then to the supermarket and the hour long bus trip back home with a 10 minute walk carrying heavy bags. The rest of the night spent updating the blog in between watching CSI and NCIS.
Sunday I was up at 0900 - wrote two long emails and then out to meet friends - the plan today to see if we could go through Harrods without buying anything. A walk, 2 buses and 3 tubes later we were at Knightsbridge - this cos the Jubilee line not running. Had lunch at a sushi place for 6 pounds - really cheap. When they say a pond is like a dollar they are right. Then into the mightiness of Harrods. Had previously been to the food hall but that was all. Found a nice handbag for 4000 pounds. Went thru each floor. The pet shp section had to be the most ridiculous - all the outfits and accessories but the most ridiculous single item was a picnic blanket for 1000 pounds - at that price you wouldnt put it on the grass. It looked like a normal $10 Warehouse blanket.
Home by 1700 and cooking a mini lamb roast for dinner as well as doing the laundry.
Diary Photos
---