Debbie does...round the world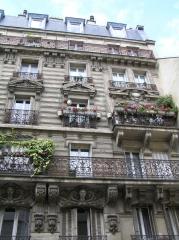 23rd May 2009 - Paris
Paris - Day One
Bonjour,
well another exciting weekend away planned - another bank holiday on Monday.
Up at 0545 and left the house at 0620 to walk to the tube station to catch the bus to West Hamstead - got there 15 mins earlt and met Andrew and Nancy to catch a normal train to St Pancreas International Station. We arrived right on time - 45 minutes before departure. printed our tickets out on a self service booth - no choice with seating but across the aisle from each other but no where near Liz and Scott. Changed my pounds for euros and then a stop at Costas Coffee to get my kickstart for the day. Unfortunately I miscalculated and couldnt take it thru security so had to stand aside and drink it. Got a stamp in my passport so always very excited by that. Caught up with Scott and Liz on the other side and made our way to the Eurostar. found our seats easily - surrounded by couples with young children. Comfortable seats and a clean toilet at the end of each carriage. Took off although not much of a view as we had a big panel instead of a window but if I sat right up I could see out the other windows. went really fast and within about 30-40 mins in the Chunnel - although to confess didnt know we were in it until we were out of it. French countryside was very similar to the English countryside except it all seemed somewhat neater. In Paris 2 hours after we left London - the journey flew by - it certainly is the way to go rather than getting to and hanging around airports.
Off at Gare du Nord and brought our Metro tickets and got onto the Metro - first thoughts was that it wasnt as clean as london Underground (Last thoughts too) Made our way easily about 10 stops down the line and one change to Montparnasse and our hotel within 3 minutes walk. Very nice hotel - for those interested Le Meridien Montparnasse - 4 star hotel. i was sharing a room with Andrew and Nancy - two lovely double beds - and the room almost bigger than both our studio units put together - at least i have a bed whereas they sleep on a double pull out sofa bed. Great bathroom too and TV with Sky.
All met downstairs and went for lunch at a great wee French bistro over the road. snails on the menu and the others all ate them but I didnt. Had the best french fries since leaving NZ and an average steak. Then we decided we wanted to do different things. Liz and scott wanted to do a walking tour whereas nancy wanted to go sometime over the few days to a particular museum. She was 'told' that she had to do it that day as no time for the rest of the weekend. I ended up going with her and Andrew rather than aimlessly walking around. Back onto the M etro and again with a change found ourselves getting off at St Paul and made our way to Musee Carnavalet - this was two mansions - 16th and 17th century - joined together and covers a whole Parisian block. One of the mansions was the home of Madame de Sevigne who was a famous letter writer from 1677 to 1696. There is a lot of period rooms which I guess if I stand back from my taste were magnificent. The best bit for Nancy was a jewellery shop designed by Mucha (remember him from Prague) - it was amazing. Left there to walk down to the Bastille - Nancy finding a jewellery shop to buy something at on the way. You just turn away and she is in a shop - not to be seen for a while. Liz and Scott get frustrated - i think its funny (and it gives me a chance to rest).
Walked around Place de la Bastille - has a grim history - started as a fortress built by Charles v to defend the eastern part of the city but soon became a jail for political prisoners. The angry people of Paris stormed through the Bastill on 14 July 1789 angry at the excesses of the monarchy when they were starving and this sparked off the French Revolution. There is a magnificent statue in the middle of a rather busy and ugly and dirty traffic island. Nancy found a market so i settled down on a seat to contemplate my surroundings.
Made our way back to the hotel just in time to meet with Liz and Scott - we were late all the other times. Then out for dinner in the Montparnasse area. Scott and Liz wanted somewhere cheap so we paid 15 euros for a very average 3 course meal. I had prawns for the first time - not aprticularly impressed with having to pull heads of stuff and not particularly impressed with the taste. The rest was ok. then Scott and lIz complained saying it wasnt so good and as I said we got what we paid for.
in bed by 2300 and had a good nights sleep.
Diary Photos
---