Debbie does...round the world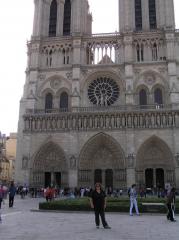 24th May 2009 - Paris
Paris - day Two
Up at 0745 and due to be downstairs in the lobby to meet scott and Liz at 0830 - we were 5 mins late.
Headed off on the Metro and got off at Ilse de la Citie - an island in the middle of the Seine River where the Notre Dame is. It was a gorgeous day here - by the middle of the day it was too hot and humid - no breeze and I would hate to be here in the middle of summer. Notre Dame I have seen before - a magnificent building and took lots of photos but having seem a few churches / cathedrals now it is not the best i have seen. we all agreed that we thought canterbury Cathedral was prpbably more magnificent inside and out. For those ineterested Notre Dame is a Gothic Cathedral that was founded on the site of a Rman temple in 1334 and represents the geographical heart of Paris.
Then walked through the rest of Ile de la Cite and into Sainte-Chapelle which is a Gothic masterpiece built by Louis1X as a shrine for his holy relics in 1248. It is said to be the most beautiful church in Paris. We were expecting something quite magnificent as kinda ordinary on the outside. Inside there was an altar and some stained glass windows and a shop and I thought that this wasa bit of a rip off for 10 euros. at the entrance there was a narrow spiral staircase that i just followed up as others were going up there - hoping there wouldnt be tpp many steps as I was already hot - it opened out into a magnificent second story of amazing proportions and stained glass windows - that is what I paid money for. You would have no idea from outside what was in there.
Walked past the Louvre with a few photos of the outside to get to our lunch place - a bistro that had been recommended by Nancy's work colleague. Liz and scott not happy re going as they had a buffet breakfast included with their room and the rest of us didnt so we were hungry and it was now 1230. Unfortunately after a rather long walk we found the bistro and it was closed on Sundays. Walked back past the Opera House and found a little place that sold ice cold slushies and slices of pizza. We only wanted to sit for 10 minutes and we were slightly irritated that Liz and Scott said they were going to eat their apples and yoghurt (stolen from breakfast) down in the park in the Champs D'Elysee. Anyway our lunch for 6 euros was great and as we walked back to meet them having taken the wrong street we walked past the magnificent Le Madelaine which is a church designed in the style of a Greek Temple in1764 - there are 52 Corinthian columns - felt rather pleased with ourselves that we had seen something they hadnt - possibly sounding a bit tectchy and I was. Found also on the way a pastry cake and coffee shop we had also been recommended - had to walk all the way to the park to get them to walk back. we knew as they were being incredibly stingy that they wouldnt want to sit down and have coffee and cake so we just walked in and did it. They lasted all of 5 minutes looking at the menu deciding everything was too expensive before deciding to meet us ina n hours time at the Arc de Triompe - they also wanted to walk and we didnt. Had a lovely strawberry pastry thingy and iced coffee for 10 euros. then caught the metro to the Arc de Triompe - a marvellous structure built between 1806 and 1836 - also houses the Tomb of the Unknown soldier. It is also on a traffic island with an amazing flow of traffic that goes out to about 6-8 roads. we then caught the Metro to the Eiffel Tower - sat in the park for a while admiring the structure and then went and took lots of photos. Back on the metro and to the hotel as all of us were very hot and decided to have showers before we went back out to Montmartre.
Took the Metro to Montmartre - Liz had chosen a restaurant for her birthday dinner that she then decided not to go to as too difficult to get too.. Went on the funicular up the hill and took photos across paris. Looked around Sacre Coeur which was in the middle of a service with some beautiful singing from two females. then looked around the artists Quarter - has some amazing artists free hand drawing peoples portraits. fFound a restaurant on the square that served 3 courses for 26 euros - really ggod meal but I got the wrong dish and it was even better than what I had chosen. headed back to Montparnasse about midnight - still very warm. Figured out the airconditioning and it was ona ll night.
Diary Photos
---