Debbie does...round the world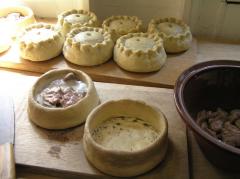 31st May 2009 - England 3
Hampton Court Palace
a gorgeous stunning day today - absolutely perfect.
Up at 0830 to be underway by just after 0930 - met Andrew and Nancy at West Hampstead tube station and a change at Baker Street to get to Waterloo. Enough time for me to buy some sandwiches for a picnic lunch - already had fruit and drink. Then to Costas to pick up a quick coffee for Andrew and I. Then the first (and only) hiccup of the day. I had to buy a off peak return ticket - about 6 pounds return to get out there. A and N already had one or so they thought. I went thru the barriers first and we had 5 mins until our train left. Unfortunately a and N couldnt get thru and they were told they didnt have a valid ticket - which they did cos they had only brought it that morning. They rushed over to the ticket machine only to be third in line, then there bank card didnt work so they had to rush back to m to boorow cash to go back to the machine. All this time I am stuck over the other side of the barrier - happy enough cos I have a vanilla latte. We miss the train - they only go every 30 mins so I ring Scott and Liz who are witing for us on the Clapham Junction platform - they continued without us - a bit like Paris really. Anyway I was allowed back thru the gates with a promise that my ticket would work again. Sat around waiting and managed to get the next train ok. Andrew rang HSBC (our bank) who said the whole network was down which was a bit worrying as I only had 10 pounds left and Andrew had about 8 pounds left over from my 20 pounds. fortunately we had pre brought a combination ticket for Hampton Court Palace, Kensington Palace, Tower of London, the palace at Kew Gardens and one other - cant remember what. A great journey out there taking about 35-40 mins.
The entrance to the Palace and grounds was only 5 mins walk away from the station across the bridge - presume it was the River Thames. stunning park like setting leading up to the entrance and found Scott and Liz sitting under the trees - sat and had lunch as was midday by this time. Lovely lunch helped by cream donuts and home made chocolate crackles - although not as good as Carol and Kellie's ones. Then through to the palace.
Hampton Court was most famously the home of Henry the 8th. He lived there in the early 1500s. England is mad for Henry the 8th this year as it is his 500th aniversary - not sure if its birth or death or exactly what. Hampton Court had a really good exhibition of portraits of him and his 6 wives that are normally held in a private collection. Walked thru the Tudor kitchens - huge in size and they still use them for Tudor banquets. The Palace and its rooms were very interesting and probably the bestest palace I have been in so far. Be warned - all visitors coming to see me you will be coming here. Even the gift shop was good and remarkably cheap for that kind of thing. Dont tell him but I found my nephew James who is 4 an amazing sword which i dithered about - more about the practicalities of posting it - but I knew he would love it so brought it and had marvellous fun all day with it sticking out of my bag and pretending to stab the pretend Henry the 8th. will have to buy the other kids pressies to send back. Then we walked around the extensive grounds. Went to the Royal Tennis courts - not to be confused with lawn tennis the game enjoyed by Henry was the same as lawn tennis but in an enclosed spce so the ball could rebound of the wall - kinda a mixture of squash and tennis on a tennis court. there was also a wilderness area - basically they hadnt cut the grass but heaps of kids running thru and loving it. we did pretty well in the maze and didnt go the wrong way once. Also a large rose garden which was very pretty as its spring here and all the roses were in bloom. then walked down by the river and wished we had only brought a one way train ticket so we could catch the boat back to central London - next time - we get in free for a year as part of the pass we brought.
All headed home having had a wonderful warm and interesting day.
Had a great weekend also as managed to talk to my sister and Kellie and Carol - saw wee Jaspar - had a wee tear in my eye thinking of all I was missing out on. Great to talk with them all and felt a bit sad for a few days.
Diary Photos
---