Debbie does...round the world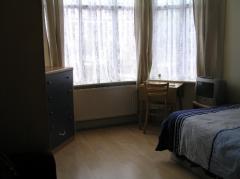 1st Aug 2009 - 3rd Aug 2009 - England 3
Moving out
Today was my official move date but it actually happened yesterday. The weekend was avery busy and muggy and hot.
Saturday I decided to do some last minute shopping and went into Oxford street and fortunately my shop had a sale but no teeshirts which I actually wanted - still I managed to but a half sleeve cardigan and a top which would do for going out whilst I was away. Then I went to my other shop but nothing there. Went to Borders to buy my travel guide to find they were in the middle of a closing down sale and evrything was in no particular order and crowded so gave up fairly quickly and went home. Did quite a bit of packing - cant believe how much stuff I have accumulated.
Sunday was spent cleaning, cleaning, cleaning. Managed to break the towel rail accidently so a note was left about that. It was hot and humid so it wasnt pleasant inside. I left about 1500 in a minicab crammed with my stuff wo move to Liz and Scott's apartment in Wandsworth for 10 days. The cab only cost 25 pounds which wasnt too bad. Liz and Scott have a lovely apartment on the 22nd floor - very modern and 2 bedrooms - very hot and stuffy as the windows only open so far. An ensuite for them and a full bathroom for me.
Andrew, Nancy and I were so impressed with the apartment when we visited 3 weeks ago that we are talking about sharing when I come back in January. We can afford the rent between us as well as the bills as it will only cost the same of what both of us are currently paying.
Diary Photos
---