Debbie does...round the world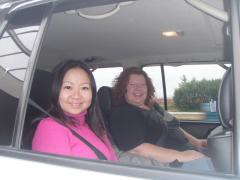 10th Aug 2009 - Iceland
Iceland Day Four
Left a note for scott and Liz late last night to say we were having breakfast at 0715 and to ring us if they werent coming in the day tour. Heard nothing from them.
Had bufffet breakfast but as usual I couldnt do it justice but did enjoy it. We managed to put some muffins, pastries and biscuits and bottles of water in our bags. We had to get the rental car back and be back at the hotel by 0830 which we should have had time for. Managed to only take one wrong turn and got to a petrol station next to hertz to dicover it was unmanned, only took credit cards and we had to choose how much as it did not have a 'fill' choice. So putting in only 1000 kronas a time we finally filled it up after 4 attempts - so about 20 pounds diesel used for the entire previous day. Then they werent ready to take us back but we insisted as well as no one there to sell our useless road map book to.
Picked up at the hotel by Omar from Iceland on Tracks for what was a very personal tour as only the 3 of us. He was born to Icelandic parents - spent the first five years of his life in USA, back to Iceland until university where he went back to USA and then spent some years there as a software programmer before deciding that wasnt what he wanted for his life and came back and decided to do something with his love for trucks and cars and hunting and fishing and Iceland on Tracks was born. it was a bit expensive at 150 pounds for the day but looked greay. We were in a n off road vehicle and helped him plan what we wanted to do for the day including snowmobiling. i was a bit daunted by this as I knew I would have to drive myself whereas Nancy could sit behind Andrew. However i wasnt going to miss out.
We started off by taking a truly beautiful drive inland - rivalling NZ scenery - and many photo stops. Went to a waterfall area where we walked and heard all about everything - so good to ask whatever questions we wanted. Whilst we were there Omar met an old friend who was taking his group of 4 people to do caving in an area Omar hadnt been to and we were invited. Of course we said yes and went thru some moon like landscape until we stopped in the middle of nowhere and were issued with a hardhat with a light on top. We walked until we got to a small underground rocky area. I was not too impressed with the small size of the opening as I get slightly claustrophobic but again was determined to not let this stop me doing it. Clamboured down over steep rocks - one section just slid on my backside as easiest and practically crawled thru the opening into a larger cave and then walked about 500 metres sometimes upright and sometimes on hands and knees. At one stage we turned off all our lights and stood there in total darkness and silence for about 5 mins. The cave was formed by lava flow like the lava tunnel I went to in Easter island. Then back up a steep section and small opening to get outside feeling proud of myself for being a good role model for fat people and that they can do anything.
back in the truck to do some great off roading thru rivers and acroos the plain with no road and up tiny mountain tracks and generally being thrilled and scared at the same time to get to the Langjokull Glacier. here we stopped near the top to do our snow mobiling. This was not included and the lady at the hotel had said it would cost about 40 pounds. Omar repaeted a cost but I wasnt really listening and I would have to convert to knew what it meant anyway. We watched another big group come back and then we were all alone to do it. I was dressed in boots and a snow suit looking totally glamourous as well as gloves and a helmet. Very terrified by this time but deciding to do it half hoping that one of the 3 guides going with us would suggest I could go on the back of his but this did not happen. A brief safety instruction and we were off - I just needed to know to lean into the slope. the kill switch, the throttle and the brake. Up we went going uphill and sideways.Uphill was ok, sideways was terrifying as I didnt want to come off. Andrew was a bit ahead but I feel i acquitted myself well and thought that Dad would love this and be really proud of me. The hardest part was the steering as we had to stay within the tracks of those ahead so we wouldnt fall down a crevasse and die. This made the steering hard but achieved it ok. Stopped near the top for about 20 mins for photos and a rest. The sun came out and it was beautiful with ice and snow in all directions. then back on to go downhill where I was went slightly faster although still as scared. Felt exhilarated and terrified all at the same time. It ended too soon. About 1600 by now so slowly made our way back to Reykjavik thru more stunning off road scenery getting back at 1830.
Unfortunately this was where we had a bit of a problem as then had to pay Omar for the snowmobiling which was considerably more that the lady at the hotel desk had said - being 90 pounds for me and 150 pounds between Andrew and Nancy (plus the 150 pounds each for the tour). Omar had told us this price as I remember him saying 18000 for me as a single.. Andrew marched into the tourist desk to demand an explanation dragging Omar with him - unfortunately the right lady was not on but we did complain about being given the wrong information. We had a wonderful time and I would thoroughly recommend this company but just check that hotel tour desks have the right information.
Up to the room to find that Liz and Scott had left a note saying to be downstairs to go to dinner at 1930. We had already decided we were having dinner at the hotel restaurant and were not going to be ready until 2030. i went downstairs at 1930 to tell Liz and scott as they werent answering their phone. They had booked a table at a restaurant for us and their friends were picking them up - we had to find our own way there. i informed them that I couldnt get in touch with Andrew and nancy and that we wouldnt be ready until 2030 and then it would take us time to find the place - they then decided they would go without us and we could revert to our original plan as they were not going to wait. I was a bit miffed as there was nothing I could do about contacting Andrew and Nancy earlier than 2030 as they had gone out to find a certain shop and if a note had been left for them they would have known before they went out.. Anyway as I was tired I didnt really care and meet Andrew and Nancy - unfortunately dinner was not spectacular and Nancy was really angry with Scott and Liz and their attitude and andrew was still fuming abot the cost of the snow mobiles. Have never seen them any where near worked up like this. I was miffed as well with liz and Scott as there was no compromising all weekend about anything.
We did agree with Liz and Scott to meet for breakfast the next morning and who ever got there first would get a table for five.
In bed by 2330
Diary Photos
---