Debbie does...round the world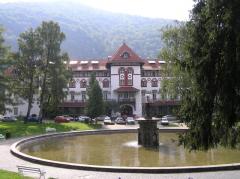 19th Aug 2009 - Romania
Transylvania - day three
Up at 0830 and had a bad breakfast - all cold meats and cheeses.
Everything worthwhile to look at is uphill so set off but fortunately it wasnt too arduous. Easily found the Sinaia Monastey and looked around. Cheap to get in - about 1 pound.
Then continued up to Peles Castle which was the reason for coming here. Set in a large park on a hillside it was a beautiful walk thru trees etc and cobbled paths. Built around 1875 for King Carol 1 and decorated by his wife Elisabeth - 160 rooms which were lavishly made in ebony, marble, walnut and leather and stuffed with various antiques. It was very ornate in a surprisingly tasteful way and was more German on the exterior. a frustating wait in line for the ticket office to find i didnt have enough for the camera tax so wouldnt be able to take photos inside. Then an even bigger frustrating wait for the tour in English or French that we had to do - very badly organised. Eventually got in - had to put 'slippers' on over our shoes. Then I did a tour around the ground and first floors - more expensve if you want to do the rest. 20 lei (4 pounds for entrance and tour), 30 lei for camera and 50 lei for the larger tour.
Back outside where there were a few minor spits of rain. Due to long waits I had I did not have enough time to go to Pellisor Castle further up the hill instead heading back down to Sinaia for a quick lunch and back to the hotel to pick up my backpack to walk to the station for the train which I knew by now would be late as they are. It was 30 mins late but proper first class for just under 50 lei (10 pounds). Had a seat next to a big window until a cigarette smelly and sweaty man sat beside me. Another small unavoidable nap and back in Bucharesti about 2 hours later.
Very hot in Bucharesti and made my way via the metro back to Tiffany's house. Had a quick catch up and went out to a cafe along the street for dinner and then I headed to Chocolat - the local beauty shop for a pedicure - about 8 pounds. I now have very clean feet with red nailpolish on my toes.
Back to do washing and chatting until bedtime.
Romania is certainly beautiful and I plan to come back and do the bits I havent seen. Tiffany and I are talking about doing the Painted Monasteries in Bucovina next year.
Diary Photos
---