Debbie does...round the world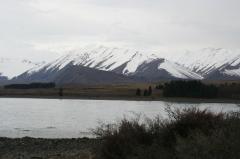 14th Sep 2017 - Adventures in New Zealand
Driving to Mount Cook
Left Marlborough around 0600 on Thursday hoping to miss the road works down the Wairau Valley and the other side of St Arnaud. Our good thinking worked and we were at Murchison just as the road works were all opening up for the day.Carried on and stopped for a cuppa in the Lewis Pass area - love love this road. We decided as it was a long day down to Mt Cook that we would swap over driving every 2-3 hours. The weather was pretty awlful - drizzling if not raining harder. Decided to stop for a picnic lunch on the south side of Christchurch but didnt realise there are no picnic spots so ended up over the other side ofthe Rakaia River sitting in the car in the pouring rain eating lunch. Continued on and turned off the main road driving through Fairlie - thought about my work colleague who grew up here and decided to take a photo of me looking a bit bedraggled next to the Fairlie toilet sign and txted it to her - she loved it.
Continued driving through some wonderful scenery - stopped at Lake Tekapo - snow on the hills. Took the requisite photos of the Church of the Good Shepherd - beautiful stone building set in a picturesque location. Short walk around the waterfront before deciding we needed a a coffee - from somewhere on the main darg and was so not good. Then found the toilets - but you pay for them - back to the car and could only find a dollar and we needed two. So we decided to share - hilarious sharing a toilet with some one you sleep with everynight. The people waiting outside gave us a bit of a look as we walked out together. Then on via Lake Pukaki - no stunning photo stops there and turned off up the road to Mt Cook.Have dreamed about coming here for many years - not quite the weather for the spectacular mountain view but was at this satge hoping for tommorrow.
Arrived at The Hermitage having booked a standard room for approx $160 pernight - no view of Mt Cook from these rooms but no cheap rooms with a view left. I have heard about other people letting accommodation know re special occassions so on the booking form I let them know it was a special birthday so if the standard room with a view became available I would happily pay the difference. I am proud to announce on arrival that we were upgraded to a premium room at no extra cost and a lovely birthday card was awaiting me in the room. I was so thrilled. Buffet dinner in the restaurant that night - the nicest carved roast beef I have ever had. Buffet was slightly expensive at approx $60 pp however was quality food so worth it.
Diary Photos
---