Debbie does...round the world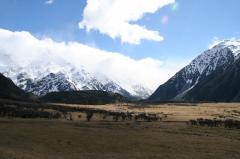 16th Sep 2017 - Adventures in New Zealand
The stunning Mt Cook day we had been waiting for
One of those all round days to remember forever
Woke up to an amazing sunny day - Mt Cook could finally be seen and worth waiting for. Had our muesli and yoghurt in the room and excitedly began planning the day. With the weather forecast being for rain and maybe snow tommorrow we had to do some prioritising for today. i really wanted to do the Tasman Glacier boat trip. Unfortunately the helicopter was out of our price range. As it was my birthday I got what I wanted and we booked for the afternoon glacierexplorers.com $170 pp. Unfortunately we wanted also to do the walk but you werent allowed to meet the bus at Tasman Lake itself. So we drove to the Tasman Lake in the morning - only about 15 mins with lots of photo stops along the way and a bit of walking. Finally saw the 'blue' in Lake Pukaki in the distance. Then we did the Blue Lakes and tasman Glacier Viewpoint track - says its easy. Well the track is good but doesnt take into account the number of knackering stepsyou need to go up to get tothe viewpoint however as with any view it was well worth it - photos say it all.
Back to the hotel for cheese and crackers again - bit of salami to make a change and then kitted out in warm gear for the big event of the day.
Just saying in advance one of the most magical things I have done. Loved the walk to the lake. Loved the small boats. Loved that they had a life jacket to fit me. Loved that MR was out of his comfort zone but also excited. Loved that there were still icebergs on the lake. Loved that it was still sunny with a blue sky. Company was great, Guide was great. Cold wind in my hair and the scenery - just all wow and it finished too soon.
Dinner at the Old Mountaineers Cafe - was excellent.
Diary Photos
---