Debbie does...round the world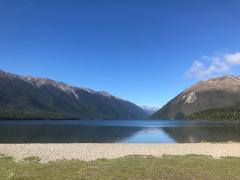 5th Apr 2018 - Adventures in New Zealand
The start of the adventure - Marlborough to Hokitika
Have been planning this wee adventure for a few months - alas all in life does not go always the way you expect / want - a solo adventure it was to be and taking all in consideration no Mountain Hunter as dont yet feel I have the experience to do 4WD off roading on my own. A few things on my bucket list to tick off - Lake Matheson, Okarito Lagoon and the well talked about fish n chips at Jacksons Bay. This wasnt an adventure to 'fit' everything in so was thinking no glacier walks etc as that could be for another time. This was a time for walking and building up fitness, relaxation, thinking re the path forward in life and renewing / reviving the spirit.
So the journey started first thing in the morning - I was organised for the approx 5 hour drive to Hokitika hoping to get there early / mid afternoon so I could go to the Hokitika Gorge. As it was a lovely start to the day did my usual bathroom stop on the foreshore of Lake Rotoiti (South Island) - this is one of my favourite places in the world - spirit revival only an hour and a bit from where I live. Quick cup of tea and on my way again not stopping until the 'town of light' - Reefton. Evidently the first town in the Southern hemisphere to have a public supply of electricity in 1888 (before London and New York even). Its a lovely drive thru the Paparoa and Victoria ranges and along the Inangahua River.Stopped at the Reef Cottage cafe for lunch for a BLAT, piece of cake and a coffee. Sat outside but didnt realise outdoor furniture was still wet so had a wet backside for the next few hours. BLAT was ok - way too much lettuce, cake wasnt for me but was excellent for others, coffee was 6/10. Continued the drive and the sun mostly still shining and made Hokitika in good time. Stopped at the i-site to ensure I went the right way to the Hokitika Gorge noting my accommodation across the road in the middle of town. Hokitika seemed a lovely wee town not having been here for many years - wide streets and pretty, full of character - so much nicer than Greymouth.
The drive to the Hokitika Gorge was an easy one through lush farm land - about 30mins there and 33kms. So its the West Coast - mozzies - so word of advice putyour insect repellant on before you get to the Gorge carpark as there aint no time to do it there - the attack happens immediately. However some good news - once you start the walk they start to disappear so really no bother into the wal kuntil you get back to the carpark lol. The other good news was this was the most I was eaten the entire trip. So the other thing - it wasnt until I was mostly thru the walk that I realised I had gone the wrong way - the sign I saw kinda also pointed to the DOC road which I thought was the track but actually not. Still there were others on it - well 3 who had obviously made the same mistake I did but it did join up with the track and I walked back the way I had missed so all ok. Easy enough track for those of us who have too much weight and not amazing fitness - whheelchair lookout 5 mins into track. About 30 min return walk depending on how many photos you take. I was warned by the lovely lady at the i-site that as it had been raining over the past few days the water would be a very milky colour rather than the vivid turquiose blue that 'has to be seen to be believed'. She was right but still lovely all the same. A great swing bridge gets you over to the other side with another 5 mins of walking thru lovely native bush to another viewpoint but also the ability to get down to the river itself.
A suggestion that you could then drive back via Lake Kaniere if you had some time which I didnt do. Back to Hokitika having a cup of tea at the beach before signing in at my accommodation for the night. Had originally planned a camping ground and the tent however weather was dubious and srating to get cold at night in early April. Mountain Jade Backpackers it was - what a gem. Right on the main street amongst everything. $55 for a private double room with shared bathroom - perfect. Great communal lounge and kitchen - not too big. Bathrooms really clean. For the price couldnt really want for me. Bed was also comfy. Walked to the beach as was hoping to get some sunset photos which I did - along to Sunset Point and back again. Not a huge choice of food places for dinner on a Thursday night - the main restaurant being completely full so ended up with takeaway fish n chips which were rather nice.
Diary Photos
---