Debbie does...round the world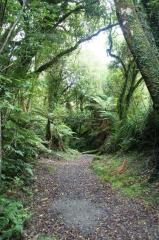 6th Apr 2018 - Adventures in New Zealand
Hokitika To Okarito
Lots planned for the day also factoring in the weather - some sun for the morning and then cloudy for the rest of the day. Breakfast at the cafe underneath the backpackers - she started sweeping the pavement just before 0600 (right underneath ny bedroom window). Breakfast croissant and coffee - yum.
Decided to go straight for the West Coast Tree Tops walk www.treetopsnz.com because the sun was mostly shining. Lovely drive there and maybe 15-20 mins outside of Hokitika - well marked off main road. Ususally $32 for an adult but today $25 as a small section of walkway not available due to maintenance - didnt affect the experience in any way. About a ten minute mostly uphill walk from the cafe is the start of a 1.2km loop elevated 20 metres above the forest floor. Shuttle vehicle is available and I would think suitable for wheelchairs. The uphill just do as plenty of 'catching up with breathing' photo stops available. If you know me on the uphill half the time its genuine photo stops the other half is a 'breathing stop' lol disguised as photo taking. This is a wonderful way to spend an hour or more. Im not so great with heights to be fair but managed fine - the walkways have slight movement to them. Didnt go up the observation tower but could see that most did. Wasnt too busy which was lovely. Lake Mahinapua in the background. All in all well worth the price and would recommend. Also fortunate some of the sun held out as the rest of the day was fairly cloudy.
Next stop was back up the highway the way I'd come to Lake Mahinapua - what a stunning wee drive thru bush off the main road to get there - quite unexpected. Stopped for well deserved cup of tea. This is also a DOC camping ground - a tent in the warmer months would be lovely and also a few walks around here to fill in the day if you dont have a boat or kayaks. Then a bit further back up the highway to Mananui Bush and Beach walk (about 9kms south of Hokitika) - lovely easy walk for all even the most unfit 20min return through native bush and out to a lovely beach where I sat for a while and pondered life and love and that sort of thing that often does you no good to dwell on too long.
Back the way I'd just come and then onto Ross for a lunch stop at a cafe on the main road- kinda on the corner. Nice enough food but very very long wait even though they werent that busy. Few stops after that - nice lake just off the road and as I entered Whataroa the rain started so kept on going to Okarito - my place to stay for 3 nights. Have to say the road was easy travelling and very scenic.
Okarito has been one of thiose bucket list places for me - tiny and unspoilt and the lagoon and wildlifeetc. Unfortunately I came just out of the white heron viewing season and also another bucket list - Andre Apse's Gallery. His website does say he will open up out of season if able and you make contact but decided not to - I could already tell on arrival I would be back. Not supposed to be any phone / wifi here in Okarito but there was some at times. I stayed at a cottage booked on holidayhouses.co.nz for $110 per night - 2 bedroom kiwi bach - exactly what it said it was and photos were accurate and I was happy. A long explore on the beach before heading back and cooking dinner and hunkering down for the night reading.
Diary Photos
---