Debbie does...round the world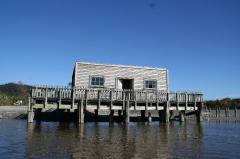 7th Apr 2018 - Adventures in New Zealand
Okarito Lagoon - a day to remember
Up early this morning as westher forecast said today would be sunny and tomorrow would be rainy so I wanted to make the most of doing a boat trip around the Okarito Lagoon with http://www.okaritoboattours.co.nz/​. It was a bit hit and miss as to whether I could go as it would depend on others also booking the tour. Tour is generally $90 but I had a $10 discount as happened to be staying in their holiday cottage. Wandered down at 0900 like I was asked to (cant ring as no signal) and was delighted to find out that another couple had booked only 10 mins earlier so it was all go for 1130. The day was stunning. Snow on the Southern Alps overnight made for delightful scenes all around and the camera was whirring away. Walk back along the beach and sat outside in the glorious sun reading my book accompanied by the neighbour's cat at my feet.
Walked over to the wharf and met another older couple and thanked them for booking. Met Swade and Paula - lovely lovely people. Life jackets on and the wind in my hair and the lagoon as calm as and I was transported immediately into my happy place. Radio contact from Paula about 3 minutes out to say another couple had turned up last minute so zoomed back to get them - again a bit older - massive camera envy as he had the biggest lens imaginable. I would think his photographs from that day with that lens would have paid for their entire holiday. Very difficult to take bad photos. Anyway my phone and camera were flashing away all day. Swade told us all about the history of Okarito and the lagoon and the birds - not too little not too much. The wind stayed away and lovely reflections. Stopped for a biscuit and a coffee at the furtherest point and got to chat with the others. Saw different types of birds - just out of the white heron season but did see a couple and lots of other differnt birds and black swans. Could go on about how wonderful it was but I wont - suffice to say it was a magical day.
Back to the cottage for some lunch and then wandered up to the beginning of the Okarito Trig track and went for a 30-40 minute walk and then back to the beach and found a sunny spot to sit and read my book - noone else around for the majority of the time - crashing waves and smells of the sea. There for a few hours and this coupled with the sunny day lead to a slightly burnt nose so remember - even in April in NZ sunscreen is needed. Was impressed with the lack of mozzies.
Dinner was takeaway Indian - you may say where from. Ha I was clever - brought it before I left from my fave Indian restaurant and froze it and voila 5 mins in the microwave delicious saag paneer and rice with a naan.
Diary Photos
---