Debbie does...round the world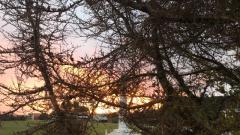 9th Apr 2018 - Adventures in New Zealand
Okarito to Haast via Lake Matheson
Up early - yeah I know me and up early in the same sentence doesnt really go together - side product of not sleeping well combined with a exciting day and weather to consider. Packed last night and already to go with porridge to get me through. Stopped to do the Pakihi Walk - just off the State Highway towards Okarito. Lovely waty to stretch the legs - a 30 minute return and I wasnt far off that. Lovely uphill walk thru native bush to the lookout with views all around.
Then off to Franz Josef Glacier Village for a quick coffee stop and visit to the small supermarket for supplies for the next few days and continuing the drive to Fox Glacier Village and Lake Matheson. No stopping along the way as my weather app which has been reasonably accurate was predicting cloud until 1400 and 100% chance of rain thereafter for the rest of the day.
Lake Matheson has been near the top of my bucket list for many years - an amateur's photographer's dream - reflections and Aoraki Mt Cook in the background combined with a delightful walk. Its funny how you picture where and what it is like based on seeing photographs and then it is different to what you imagine - not in a good or bad way just different. Anyway I knew it was going to be a cloudy day so was prepared for this. Carpark was still pretty full mainly with a variety of campervans. Seems that most take the walk veering left to the first lookout and then come back the same way so once you get past that you are mostly on your own for sections of the track. The cafe looked inviting but only brought a biscuit to take for my halfway point. The track is easy walking and well graded - a few very minor uphill sections and further around some steps but nothing major. You will notice I include steps at times - on this holiday they were taken to send to my other half - currently in his homeland - as he takes enormous pleasure out of me walking up hills or up steps cos he knows how much I love them and he likes the huffy puffy me standing with my hands on my hips as Im overheating trying to regain my breathing and to cool down. Anyway the estimated walk time is 1 hr 30mins and I was astonished to complete it in 1 hr 40mins including all my photo stops so was quite proud of myself. A tick off the bucket list but will be back here for a sunny day to do it again.
Then back to Fox Glacier Village for a bit of lunch - Cook Saddle Cafe and Saloon - steak sandwich. Chips were great - overall a 7/10. During lunch as predicted the rains started and continued steadily for the rest of the day. Continued driving towards Haast - lots of lovely small stops along the way so allow time for this. Knights Point is signposted - toilets here as well as picnic tables and great views up and down the coastline. Still raining so had a cup of tea in the car before driving onto Haast.
Again Haast wasnt what I had always thought - I had always thought Haast Pass - inland so therefore the village would be as well but that wasnt correct - it is on the coast and is the entrance to the Pass. Because of lack of wifi I got a bit confused as Haast Village and Haast Beach where I was staying were about 5-10 kms away from each other. Anyway I had a bit of a tiki tour (kiwi for the driving you do trying to find where you actually need to be going) and finally pulled up at Haast Beach motel in the near dark where I would be staying for 3 nights - another great accommodation choice. The motel, the road, a paddock and then a beach that stretches forever... Motel was the most expensive at $130 per night but had everything - large comfy bed, large bathroom, kitchenette, TV and a laundry.Small grocery store with everything you could need next door (wished I hadnt shopped at Franz Josef Village now).
Diary Photos
---