Debbie does...round the world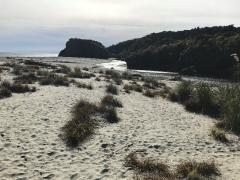 10th Apr 2018 - Adventures in New Zealand
Exploring the Haast area
Sunny day again - storm, rain, winds weather warnings for the rest of New Zealand but seems to be bypassing me down herein the south. Headed back up State Highway 6 to Ship Creek - about 20mins drive. Recommended by my stepmother as well as the fairly full carpark when I arrived. Toilets here as well as a lookout and a couple of picnic tables as well as the beach itself. Lots of people seeming to head for the beach and taking photos and not do the easy walks - they missed out on a glorious slice of the south. A great place to stop for an hour and a half to do both walks and to have a packed lunch with two great walks particularly for the novice or unfit.
Dune Lake walk to begin with - easy walk initially by the beach and then into native bush and via a lake and lookout - loop track as well. Anyone can do this - undulating but easy for all. Then onto the Kahikatea Swamp walk - going underneath the bridge inland and quite different tothe Dune Lake walk - this was flat and an easy 20mins - robust wheelchair would easily get around if it hadnt been raining too much - some board walk as well - also a loop.
Back down the State Highway to the Haast Vistors centre - great displays here and well worth a look. Spied Shaun Barnett's Day Walks in NZ book which I had and lent to whom I no longer remember and has never been given back so decided a wee treat was in order and brought it again.
Then back to Haast Beach for a long wander - only person there apart form the motel owner and her horse way off in the distance. The type of beach you could wander along for a very long time. Loved the birds and took many photos trying to get close but not scaring them off - deleted about 30 photos lol. Back to the unit and made stay chicken stirfry for dinner and watched some of the Commonwelath Games - another lovely day.
Diary Photos
---