Debbie does...round the world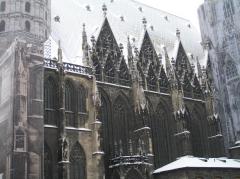 8th Jan 2010 - Austria
Vienna Woods and Mayerling
Decided to have breakfast at the hotel this morning as had constantly snowed overnight and I knew it would be hard to get to the nearest coffee shop 10 mins away before the bus would pick me up. Cost 14 euros for breakfast - extortion really as wasnt that good however was able to sneakily make 2 rolls for lunch and take some fruit so ended up being 2 meals.
I had previously decided to try and see something outside of vienna but all the full day trips were on Weds and Saturday which of course were the day i arrived and the day I left. I did find one to the Vienna Woods and Mayerling which was for 5 hours - 43 euros which is ok considering it included everything.
It snowed for the entire day. Firstly we drove out of Vienna to the Vienna Woods area where all rich Austrians have their summer houses. There is also some thermal baths at a lovely looking town called Baden - impossible to take photos due to the wet windows in the bus. The first hour was very picturesque - snow covering everything - lovely old buildings in the towns etc.
The first stop was at a place called Mayerling. It used to be a hunting lodge for the royal family in the late 19 century but was turned into a convent when Rudolf - the 30 yr old son of Emperess Sissi and Franz Josef - killed himself and his 17 yr old Baroness lover. he got a royal burial - she is in a common church yard. Anyway it was turned into a Carmelite convent - vow of silence and all. Nuns are still there but never seen. The actual bedroom where the murder / suicide happened has been turned into the chapel. Evidently Sissi went into decline after this and wore mourning clothes forever.
Then onto a Monastery - cant find the name of it but built in the 1200s. There are still men joining the order today with age ranges from 20s upwards. Catholicism is very alive in Austria
Then on to a Seegrotte - an underground lake - in another very lovely village. It used to a Gypsum mine in the early 1900s until an exposion set free some underground water and it was flooded with some loss of life. The water was fantastic quality so is still being pumped out today - some thousands and thousands of litres daily. During WW2 it was used to build the fuselage of bomber planes (for Germany) using people from local concentration camps - must have been awlful to not only be imprisoned (particularly in winter) but also be forced to be part of building something which could kill your own people. We walked down this long mine tunnel and eventually came to the bottom and water everywhere - the underground lake that was promised. Into a narrow boat that seated about 25 and off we glided thru the caves - piped music, lights etc. Temperature is 9 degrees all year around.
Then the walk back upto the top and were allowed to get coffee - he was rounding us up before the last people had been served. Had my first piece of apfel strudel - very nice. Then back on the bus to Vienna. We were dropped off at the Opera House which didnt appear to be on my map so instead of asking I just set off. Still steadily snowing. Found myself in the Museum Quarter and went back thru the Hofberg to gradually make my wy to Stefansdom - the huge cathedral in the central city. Had a brief look inside but to be honest not too much different to other cathedrals I have been in.
Is dark here by 1630 so gradually made my way back to the hotel as still snowing - magical.
Diary Photos
---