Debbie does...round the world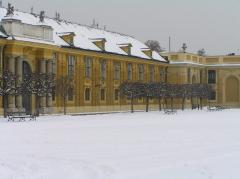 7th Jan 2010 - Austria
Wandering around Vienna
Got up at 0800 and found a local cafe where I had a coffee and muffin.
Caught the U-bahn (metro, underground, tube - whatever you want to call it) to Schloss Schonbrunn - this was the summer palace of the Habsberg dynasty who helped rule Europe for hundreds of years. 1441 rooms all together of which i saw 40 of them. Hired an audioguise whih talks about all the interesting history. The grounds are also huge as well. The main history centres around Emperess Sissi (Elizabetha) who was considered to one of the most beautiful women in her time. She married Franz Josef at the age of 15 - supposed to be married to her sister but he saw her and it was love at first sight. he evidently loved her all of his life but she wasnt so enamoured. They had 3 kids - the eldest died age 2 and her son Rudolf killed himself and his mistress. Sissi was a bit of enigma as she didnt like court life and spent a lot of time travelling whih was unusual in her day and time. seems like he was a good ruler and allowed her this freedom.
Caught the u-bahn back to central vienna and went to the Hofberg Palace which was the Habsburg's winter palace built in the 13th century. It now has the office of the President of Austria. Aagin a magnificent building with an amazing interesting history. There is a museum there devoted to Sissi - she was evidently obsessed with her looks and exercised daily including a 19 century gym. There was also a silver chamber which held the most amazing collection of dinner sets and silver for the royal household - they told stories of what would happen at meal times which made it interesting.
I wandered into the Spanish Riding School which is famous for those horses that prance around and do amazing tricks but they werent putting on another show until february although you could watch them doing their excercises for price each day. Also checked out the Vienna Boys Choir but they werent performing until Sunday.
Wandered around a bit longer but as it was starting to snow again and it was dark headed back to the hotel about 1900.
Diary Photos
---