Debbie does...round the world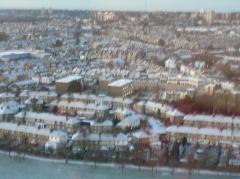 1st Feb 2010 - 7th Feb 2010 - London
A new life - passport and apartment
The last weekend was not long enough and I dream of having 3 days off in a row again. Have been quite homesick for the first time ever for an extended period. I think its cos this time is a bit more final in resigning from work etc. Anyway I am sure it will pass soon enough.

The work week was busy as usual – had some meetings and visits to a few different places – Mitcham and Croyden. Work was slightly less frantic this week but busy enough. Frustrating at times – am dealing with a Psychiatrist in another borough who is annoying me no end – he is arrogant and patronizing – I will win and the client will have the placement she (and me) wants . Still haven't met with my manager formally yet – he just lets me get on with it. Went to a half day training – took me an hour to get there – walk, bus, walk for them to inform me they forgot to tell me it had been switched to the morning. Went to another one on Carer's Assessment workflow on Thursday afternoon which was good – more on the process on the computer rather than the actual doings of it. Was good because some of what I learnt will help with with other parts of workflow on the computer systems.
I was a bit cunning during the week and to get what I wanted I kinda pitted one manager against another. I am not sure I should be proud of this but it seems to have worked and will mean I will be a bit happier in my job there and probably stay a bit longer. Essentially I don't want any more allocated social work cases apart from the ones I already have and I want to do more reviews. There is a huge emphasis on them at this time and our team have only got something like 30% done for the year that ends 31 March. I wrote to my manager (and copied in his manager) and suggested I do what I am currently doing plus 8-10 reviews per month whilst I am there. My manager wants to allocate cases and said probably not but his manager emailed back and said it was a really good idea. I knew it would happen like that so I will talk to the bigger manager first and get it all sorted. It may also mean I might have the occasional trip outside of London.

Thursday night I went and signed up with Andrew and Nancy for our new home. It was so exciting. All that has to be done now is for the landlord to sign and we can move in on 20 March – still a long time away and it will be very hard to wait that long. I am sick of living out of backpacks etc and long for somewhere to call my own. I still haven't actually seen it but probably will on Monday night and will take photos. Now we just have to save 1500 pounds each for deposit and rent in advance and we'll be right ( actually do have most of it already)

Saturday Scott, Liz and I went to the Destinations Travel Show – I had two free tickets so gave one to them. I had gone the previous year as had won free tickets and have to say it wasn't as good and I enjoyed the one the previous weekend. Went to two talks on travel writing and photography and really just need to settle down and produce some stuff and start submitting it and getting sad because it is being rejected. Scott and liz left at lunchtime and I stayed until late afternoon.
Sunday I felt I needed to give Scott and Liz some space so after doing some washing headed to The Natural History Museum in Kensington to see the Wildlife Photographer of the Year exhibit. I had wanted to go this time last year but decided I couldnt afford the 10 pounds so had decided I would definitely go this year. It has been a bit controversial as the guy who won the overall prize had it taken off him. It was a photo in snow showing a wolf in flight jumping over a fence. Evidently the wolf was not a wild animal but was trained for shows etc. I actually don't think it was the best photo anyway. They were all amazing and some of them I do not know how they got them so great – particularly the light in some of them. I really enjoyed it and brought small prints of some to frame. I will also photograph the prints and put them on here.

By now Tim will be in Nelson – not sure who he is staying with but pleased he will have a chance to get to know everyone again as he has hardly spent anytime with family for nearly 2 years. Wish I was there too as would have been the first time we have all been together for ages.

I am away to Venice next weekend and looking forward to it – leave early Friday and back extremely late Monday night so am having two days off work (paid as I have worked extra hours). Not sure if I will take the laptop due to going on Ryan Air and cabin baggage only (costs about 30-40 pounds to take another bag). I will have my English cellphone 00447854700289 for any emergencies.

Oh, almost forgot I have my new passport which arrived on Thursday – its lovely and very New Zealand – black with a silver fern. Not sure what I will do about a new visa yet - have a good story made up for getting back into England next week.
PES people – write with all the happenings please.
Diary Photos
---