Debbie does...round the world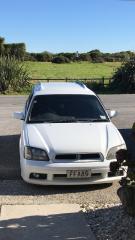 11th Apr 2018 - Adventures in New Zealand
Jacksons Bay
Ive long heard about Jacksons Bay - drive til the road ends - how beautiful it is - as well as its famous fush n chups. Today was the day and what a glorious day it was. Note to you all - April in the south you probably do need sunblock still.
Great driving road through a mixture of pasture land and native bush and some dirt roads til you get to Jacksons Bay. Stopped on the foreshore and went for a walk to the end of the wharf to take photos. Then to the start of the Wharekai Te Kou walk to Ocean Beach - about 40 mins return plus the time you spend on the beach. Walk takes you through native bush - undulating and doable even for the unfit. Ending up on Ocean beach - met a lovely couple here from Auckland who had been travelling in their campervan for 3 months around the South island. They left and had the beach to myself. Somewhat plagued by sandflies but made up for by the gorgeous piwakawakas that were dancing and flitting around everywhere. Met another older couple in the carpark when I got back and duly warned then to put repellent on.
Next on the agenda was lunch and fabulous those fish n chips were - definitely on the expensive side - over $20 for blue cod and chips but worth it. Great coffee too - lovely sitting at the outside tables with a great view.
Meandered back to Arawhatu Bridge and stopped and went for a long walk underneath the bridge and up the river contemplating whether or not I was brave enough to go for a swim 'skinny dip style' - I didnt which was just as well as when walking back under the bridge came across two young tourists walking to where I had come from from. They would have come across me in a very embarrassing way if I had done what I had wanted to. I drove across the bridge and then stopped again to take photos and saw them down on the river bank larking around skinny dipping themselves - felt like a bit of a voyeur so hastened back to the car lol.
Stopped at the Hapuka Estuary walk - very easy mainly flat walk that can be done by all - estuary views and then back via some native bush.
Back to the Haast Beach motel and did some laundry and cooked dinner - sausages and potatoes tonight before a bit of a tidy up in preparation for leaving tommorrow. More Commonwealth games as nothing else on tv.
Diary Photos
---