Debbie does...round the world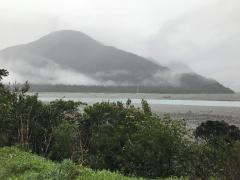 12th Apr 2018 - Adventures in New Zealand
Haast Pass
Last time I drove throught the Haast Pass I was 13 and the oldest child on a dreadfully horrible family trip so was hoping today to create some new good memories. The forecasted rain had arrived and wasd ue to stay most of the day and it did. good old West Coast rain as well - quite thunderous and unrelenting. Picked up a takeaway coffee in Haast village to fortify myself and headed off determined to do all the walks I had chosen no matter the wet.
First stop was the Roaring Billy walk - 25mins return through native bush - wonderful. No one else around apart from me and the rain. Then back in the car with the raincoat spread out in the back of the station wagon attempting to dry in between walks. The next stop wasat Pleasant Flat - had a cuppa tea here under the shelter and then a brief walk - barely 5 minutes around a trail. Onto Thunder Creek Falls and Fantail Falls - few more people around now although still raining but more of a drizzle. Walks were very short and very easy so no excuse for anyone not to do them. Next stop was Cameron Flat for lunch - lovely view down the valley. Nice shelter area with benches - great for camping in the better weather. Another cup of tea and sauage breadrolls - I'm a bit fed up of sausage bread rolls now - note to self - no need to cook all the sausages cos then you have to eat them.
The next stop was the Blue Pools - often read about and seen lots of great photos. Rain had nearly stopped and a bit of blue sky in the distance.Lots of people here. Gradual walk downhill to the swing bridges - fairly easy with those less unfit just needing to take it slowly on the way back. The path was very walkable. Just gorgeous. Water was so blue so lots of photos taken. A stop in Makarora for a coffee and then soldiered on to the first views of the lakes - Wanaka and Hawea - stunning. Not too much more to say really about the scenery. Have been very fortunate in my travels around the world and yet some of the best scenery in my own land. Stopped at Boundary Creek and went for a walk before continuing on to Wanaka. Stayed the next two nights at the motor camp - self contained cabin for about $100 a night - worth it.
Diary Photos
---