Debbie does...round the world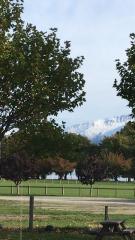 13th Apr 2018 - Adventures in New Zealand
Exploring Wanaka
Woke up to sun pouring thru the cracks in the curtains so knew it was going to be a cracker of a day. Firstly a breakfast at Relishes Cafe on the foreshore - eggs benedict with bacon and extra hollandaise. Feeling a bit maudilin today - not surprising in my current circumstances so had to shift myself along and doing something otherwise would have been easy to sit on the foreshore and hide myself in my book all day.
Decided on a drive around to Glendu Bay and along the way with the sun and the scenery the mood lifted. The carpark up to Roys Peak was crammed full of cars and campervans including along the sides of the road - very popular walk for those who are fit and I could see why but not the sort of thing my lack of fitness is capable of doing - next time i hope..Stopped a few kms before the campground for a walk to the lake shore to take photos and then realised there was a walking track all the way around so walked the rest of the way to Glendu Bay campground, Could also easily be cycled as well. This filled in a lovely couple of hours. Did a further drive up the road and then turned back to Wanaka and had a late lunch before driving around to Eely Point - again stopped and went for a walk. Could have left the car in the township and walked from there easily enough. Lovely views from all directions and lots of different activities.
Back to the cabin to get ready for the long awaited reunion with my step brother - to meet his wife and 2 yr old son - lovely evening spent with them. He is a vineyard owner / manager and shame I was driving so couldnt drink more of his profits - he offered me a chardonnay which usually I dont drink cos I dont like but surprisingly good - check out Lamont Wines in Wanaka.
Diary Photos
---