Debbie does...round the world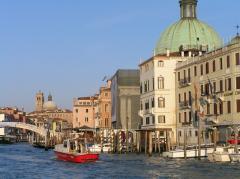 12th Feb 2010 - Venice Italy
Venice - day 1
Up at 0600 to leave by 0645. For some reason we could only get the Ryan Air bus from Baker Street to Stansted Airport. I had worked out my route but Scott said it would be easier to go via the District Line which made some sense at that time. However the route he suggested didn't work and I arrived at Baker street with 5 mins to spare and still needing to find the bus stop which was only 2 streets away but in what direction. Two passerbys also found the map confusing and fortunately was going in the right direction when I saw the bus go past. No time to get a coffee and another 1hr 20 to Stansted airport.

It is hard to describe Ryan Air for the positive. It does have the cheapest fares – 60 pounds return to Venice, Italy. However the rest are negatives. You are only allowed hand luggage unless you pay 30 pounds for checked in luggage. You are not allowed a handbag plus hand luggage – everything must fit in the one bag. You can only take small toiletries as it is hand luggage. Doesn't help when you decide to take your digital SLR camera which takes up one third of your hand luggage. You have to print out your boarding card before you get to the airport otherwise they charge you 60 pounds. Even when you get to the airport and you have no luggage to heck in you have to stand in lines of 50-100 people for what is called a document check. Then you go thru security – only 2 lines open for about 500 people. You have to take off coats and boots and have out toiletries and laptops. Finally you get thru to have breakfast 3.5 hours after you left the house. Then you have to queue at the gate – there are no seats and you do not get given seat numbers so people like to queue early t get 'good' seats but mainly its about getting on to have a space in the overhead locker for your bag as half the flight has the biggest bag possible to save on luggage costs. Oh the other thing is you can take your own food on board but it must fit in your hand luggage. Saying that you can buy food on board and it isn't horrendously expensive. The flight crew then tell the last 20 passengers to hurry up and get seated otherwise the plane will lose its takeoff slot. The real reason it will lose its takeoff slot is that they attempt to board 150 passengers without seat numbers in 10 mins prior to the advertised take off time. The stragglers are left combing all overhead lockers for space to put their stuff let alone sitting down to find a seat. Chaos is a good word to describe it.

Anyway we all got seats together with room for our bags and a reasonably good flight to Venice – 1 hr 40mins. Arrived at Venice-Treviso airport which is the furtherest away so it is a 60 min bus ride (cheap) to the outskirts of Venice and then a 45 minute valporetto (boat) ride to the dock nearest the hotel. From house (wont call it a home as its not)in London to hotel in Venice it was 8 hours.

The hotel was surprisingly in a great location – just 1 minute from the canal and 1 mins walk from San Marco Square (in good walking conditions that is). Nancy Andrew and I were sharing a triple as otherwise it would have cost them and me 150 pounds per night. Double bed and single and was perfectly adequate. Staff were great. I think it was the Hotel Treson. Probably cheaper outside of Carnavale which is why we went at this particular time.

After pouring thru brochures at the hotel reception we decided to do a 2 hour walking tour the next day and go to a theatre production based on the history of Venice.
That night we decided just to walk and explore and find somewhere for dinner. It was really busy with huge crowds due to it being the last weekend of Carnavale. A wee explanation about Carnavale which started in the Middle Ages and then was abolished by Napoleon in the 1800's. It used to last 6 months and everyone wore masks that that all 'classes' of people were considered equal. It was alos quite debaucherous with everyone sleeping with everyone else. It was revived again in the 1980's and elaborate costumes as well as masks are now a feature. We had brought our masks in London – well I didn't – Nancy brought mine for me – because we thought it would be cheaper. We were wrong – they were half the price in Venice and getting them safely there without breaking was torturous.

San Marco Square was crowded – Nancy kept stopping to take photos and we all lost each other several times. Lots of music and various entertainment going on. Costumes were amazing and although I took photos I have only picked out the best 5-10 of them. We ended up looking at various restaurants but ended up at Hard Rock Café and after a bit of a wait had an amazing meal and one of the best cocktails ever. Then walked back thru to the square and eventually back to the hotel.
Diary Photos
---